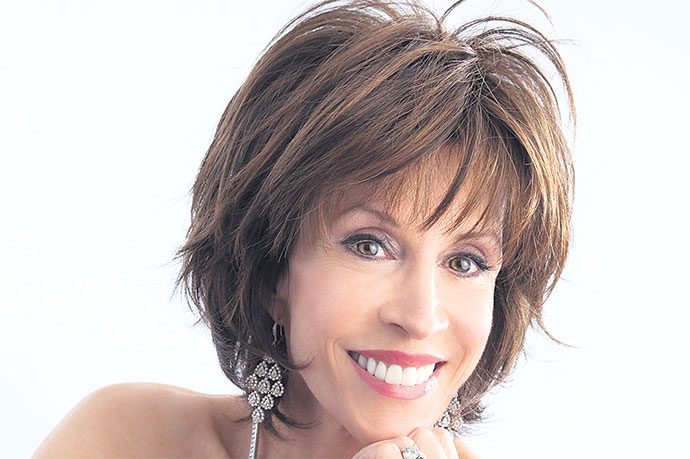 When Deana Martin talks about Uncle Frank and Uncle Sammy it takes a second to get your head around the fact that these aren't just random relatives, but rather two of the most well known performers of all time, Rat Pack members Frank Sinatra and Sammy Davis Jr. It seems quite bizarre but when you're the daughter of crooner Dean Martin it's just a normal part of growing up.

"It's how I was brought up, because these people did come over to the house and so it could be Tony Bennett, Rosemary Clooney, Uncle Frank, Uncle Sammy," she said.
"I was so lucky to know these people and to be able to watch them up close and personal."
Lucky indeed when you consider that Deana Martin had access to the best singing education that anyone could wish for, though it was her father's famous musician friends who were the most helpful.
"Frank Sinatra was one of the best. He was so generous with his time with me," Deana said.
"He always wanted to help, whereas when I talked to my dad I'd say 'dad what about singing?' and he'd say 'just sing from your heart, know all the lyrics'. See because for my dad it was so natural, it was just a beautiful God given gift, he could just open his mouth and sing.
"Uncle Frankie, he really worked on every note and on his phrasing and his interpretation of a song. And he would tell me about that, he made it important and I learned. That was great."
While some celebrity offspring shy away from following their famous parent into show business, Deana Martin knew from a very young age that she wanted to be just like her father.
"I went to The Sands Hotel when I was maybe nine-years-old and when my dad walked out on stage, you know I'm sitting ring side, he walked out and the people around me gasped and said 'there he is' and I thought 'oh, I've got to do that'," she laughed.
"It was magical to me."
Dean Martin's public persona was that of the half-drunk crooner but Deana says the myths surrounding her father are false.
"I'm still always surprised when people come to me and say how did he do all that work when he was drinking so much, [it's] because he wasn't drinking so much," she laughed.
"He wasn't the one who was out until two, three o'clock in the morning with Frank Sinatra. My dad loved to come home and watch TV and have dinner with the kids.
"He never got mad, he was just even keeled and the way you saw him, just natural and easy, that's who he was."
Deana Martin has very much embraced the role of Dean Martin's daughter, and her show at Rooty Hill RSL on Saturday, February 14 will pay tribute to her father, and his musical contemporaries, through song and personal anecdotes.
"It's going to be incredible songs, wonderful arrangements, fabulous musicians," she said.
"There will be lots of humour and great music and of course a very touching duet with my father.
"I also have a wonderful video montage of home movies from when I was a little girl with my dad."
The show has been a hit with audiences, selling out dates all across the US. Throughout her years of touring Deana has noticed that the age of audience members has started to change.
"Now I'm getting a nice big cross section," she said.
"This music is classic and timeless. And the Rat Pack is so in. I mean they were the cool, cool guys and the younger generations are now seeing how cool they were."
Though a talented singer in her own right, Deana has only ever wanted to be the proud daughter of one of music's greats.
"I embrace it because there's nothing else that I could possibly do because, I mean, I am Deana Martin, it's not like I was one of my sisters. Everyday it's a fact that I face when I'm introduced to someone. It's always 'Deana Martin? oh, any relation?'," she said.
"I knew from a very young age that's who I was, that's what it was going to be.
"I knew that I had to be the best possible Deana Martin that I could be."
The wonderful Deana Martin will be performing in Memories are Made of This at the Rooty Hill RSL on Saturday, February 14 at 8pm.
Tickets are $95 including dinner or $55 for show only.
For more information or to purchase tickets visit www.rootyhillrsl.com.au or call 9625 5500.