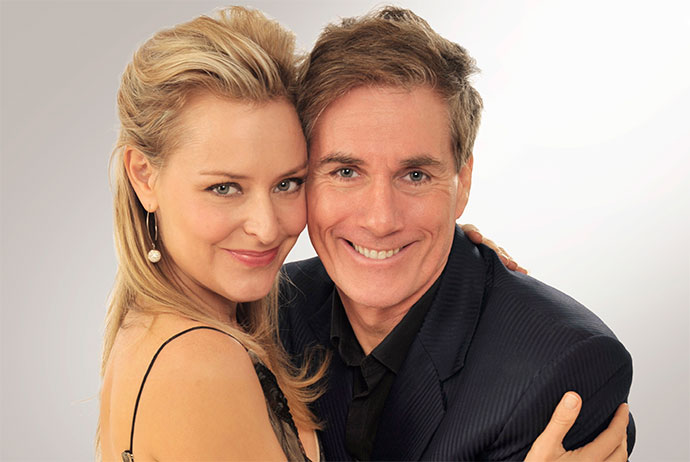 When talking to renowned opera singer and composer David Hobson about his 'My Baby Just Cares For Me' tour with Rachael Beck, whose most well known for her role on the popular sitcom 'Hey Dad' and theatre productions including 'Cabaret' and 'Beauty and the Beast', it's clear that he has nothing but praise for his on stage partner.

"What you'll see is a great connection between two artists who really enjoy working with each other," David said.
"I've been really lucky to have a great connection with Rachael and vice versa.
"I wasn't surprised at how great she was but I was surprised how great our chemistry was."
After working together on several projects over the years, including Channel Seven's celebrity singing competition 'It Takes Two', it was David and Rachael's work on the hit musical 'Chitty Chitty Bang Bang', which premiered in 2012, that inspired them to take their combined singing skills into the studio.
"We had such a great time performing that show that we wanted to keep continuing it because the relationship on stage was so strong," David said.
The duo recorded the album 'My Baby Just Cares For Me' which was released in early 2014 and featured covers of classic tracks from stage and screen including 'Get Happy', 'Baby, It's Cold Outside', 'Bewitched, Bothered and Bewildered', 'I Got Rythmn' and 'Almost Like Being in Love'.
"[It's] a collection of fantastic standards that we love and we wanted to do them in a particular way which was relatively intimate and able to translate to the stage," David said.
And translate to the stage they did with the pair taking the album tracks live to audiences shortly after the album's release.
On Saturday, February 14 David and Rachael will once again be taking their 'My Baby Just Cares For Me' show on the road with a special Valentine's Day performance at the Joan, bringing to life this collection of opera, musical theatre and pop music.
"I think it's got a romantic edge to it, lots of lovely romantic songs," David said.
"I think it would be a perfect couples show for people to come along and see absolutely, would absolutely recommend it.
"Would I recommend it as a footballers night out, maybe not. Or maybe the netball and football club when they come together."
According to David he and Rachael are hoping to give audiences a real feel for who they are as people, rather than just seeing them as characters on a stage.
"Hopefully the audience get out of it a really uplifting experience because they're really seeing us unplugged and very natural," he said.
"What they can expect is a really intimate portrait of us as a duo and us as solo artists as well."
The pair are having so much fun working together that there's already talk of more recordings and stage shows in their future.
David Hobson has become one of Australia's most loved performers with his on stage work including roles in productions of 'The Mikado', 'The Pirates of Penzance' and 'H.M.S Pinafore', along with television performances on 'Carols in The Domain', 'Carols By Candlelight', 'Dancing with the Stars' and 'Spicks and Specks'. David is also an award-winning composer who has worked on numerous projects including the Australian film 'One Perfect Day' and featured on the soundtrack to 'Better than Sex' and 'Elizabeth'.
After reflecting back over all of his achievements, from singing for the Queen in the Great Hall, Canberra to being asked to perform the national anthem at the AFL Grand Final, David admits that for him the best is yet to come.
"My highlight is just round the corner," he said.
David Hobson and Rachael Beck will be performing their show 'My Baby Just Cares For Me' at the Joan on Saturday, February 14. Tickets are $50-$55. For more information or to make a booking visit www.thejoan.com.au or call 4723 7600.