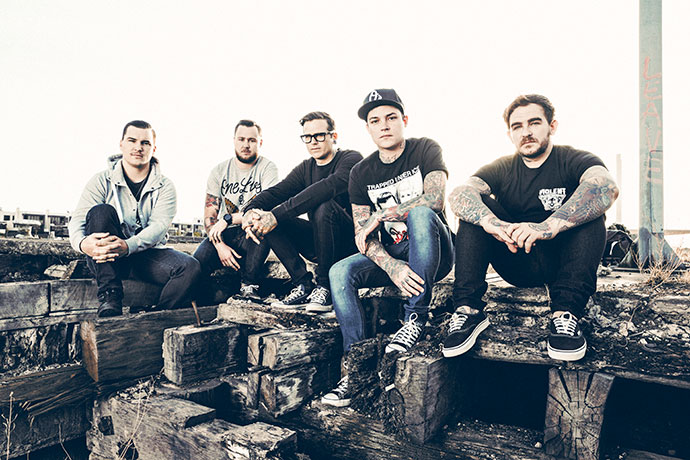 There's no doubt that Gympie metalcore outfit The Amity Affliction have gained plenty of fans in Australia, but it's their success in European countries, where heavier metal genres reign supreme, that's been the most unexpected outcome for the band.

"They're not really into the softer side but, I mean, we're doing pretty well, which surprises me," the band's drummer, Ryan Burt said.
"The heavier parts of our songs go down better but they're sort of warming to us over there which is great. All the crowds were pretty good on the last tour. I don't know, there's something about us that they like."
2014 was a big year for The Amity Affliction. The band released their fourth studio album 'Let The Ocean Take Me' in June, which debuted at number one on the ARIA charts, maintaining the pattern of success they found with 2012's 'Chasing Ghosts'.
'Let The Ocean Take Me' also became the band's third consecutive album to reach Gold status. Add to that a string of sold out shows and touring dates across Australia, Europe and North America and things are certainly looking pretty rosy for the band, which formed over a decade ago during their final year of high school.
Though The Amity Affliction has enjoyed plenty of success it hasn't all been smooth sailing.
As long time fans of the band will know, there's been a number of line-up changes through the years, but it was the departure of lead guitarist Troy Brady – who founded the band alongside frontman Ahren Stringer – in October that really came as a shock, to everyone but the band.
"We kind of knew it was going to happen for a little while there, so we've kind of been planning for it I guess. But yeah, it hasn't really impacted the band too much to be honest," Burt said.
After Brady's departure there's been many questions as to who will take over. Talking to Burt, it seemed the current answer to that question is no-one.
"I don't think there will ever be an actual replacement, to be honest," he said.
"I think we'll just have a permanent fill-in type thing and just keep it the four of us with (guitarist) Dan included now."
The Amity Affliction are currently back in the country and have just commenced 'The Weigh Downunder' tour in support of their new single and video for the track 'The Weigh Down'. The tour will see the band skipping the major cities in favour of regional and suburban dates across the country, including a stop off at the Evan Theatre in Penrith on Thursday, January 15.
"We're playing a lot of places that we haven't played in years," Burt said.
"We haven't played anything but main capital cities in years so I'm kind of excited to see it."
Joining the band will be Byron Bay's In Hearts Wake, who released their second album 'Earthwalker' in May, which made it to number 5 on the ARIA charts. The band are no strangers to touring with The Amity Affliction, having joined them on two previous tours.
"They're good friends of ours, we go way back so there's no surprises there. We all know each other pretty well," Burt laughed.
The rest of the support band list reads like a mini metalcore festival with Melbourne band Confession and New Zealand's Antagonist Ad playing alongside In Hearts Wake.
After the Australian tour The Amity Affliction will be heading to the US in February, then it's off to Europe before heading back to America for the Warped Tour. Add to that the fact the guys are currently working on a new album and it looks like 2015 is going to be another big year for The Amity Affliction.
The Amity Affliction will be performing at the Evan Theatre on Thursday, January 15. For more information visit www.penrith.panthers.com.au.