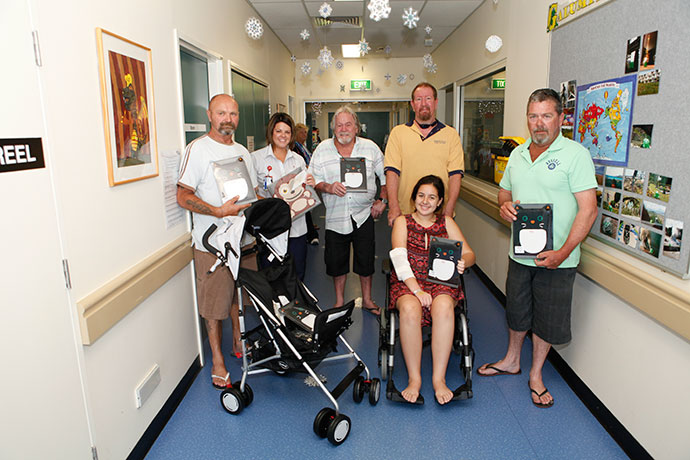 The gents of Jamison Hotel Social Golf Club have made a commitment to annually support Nepean Hospital Children's Ward after donating around $40,000 over the years.

This year was no exception, with the club making enough money through a year of raffles to purchase a wheelchair, three strollers and a handful of iPad covers for the ward as well as donating $1,800 for the nursing staff to purchase equipment for the outdoor play area.
A number of members visited the Children's Ward on Monday to present the donation and to encourage staff to begin making their wish-lists for next year's fundraiser.
Jamison Hotel Social Golf Club member, Mal Gembles, said it was fantastic to be able to brighten the lives of those currently doing it tough.
"It is a bit of a tradition for our club so we are always happy to maintain it and hope to do so in the future," he said.
The local club's commitment has seen the ward gifted with thousands of dollars worth of equipment including six iPads, which were donated earlier this year. Their motivation for raising money is simple.
"Everyone has kids and no one wants to see them in hospital suffering. Also, we all live within the community, so it's important that we give back to it," club member, Mick Britten said.
This year the club was supported by a number of local businesses as they made their donation including Jamison Hotel, K & A Quality Meats, Astley Medical Centre, My Baby Warehouse and Harvey Norman.
Before making the donation, the club met with nurse unit manager, Shannan Waddups, and other staff members to discuss what would make life easier for the kids, parents and staff in the Children's Ward.
After the ward's only pram was recently stolen, the purchasing of new prams was essential.
"Parents don't anticipate staying, especially not for long periods of time, so they don't bring everything with them," Ms Waddups said.
"It is nice for them to be able to put their babies and young children in the prams and go down to the cafeteria and have some time out. It gives them a chance to get out of the ward, rather than being stuck up here.
"Kids that are here for a few days, it gets a bit overwhelming, a bit too much for them, so to be able to go outside or down to the cafeteria with mum and dad is really handy and helpful."
Only minutes after the group arrived with their newly purchased prams, parents already started using them.
Members of the Jamison Hotel Social Golf Club will now start their fundraising again and are expected to be back at the Children's Ward before Christmas next year with another donation.