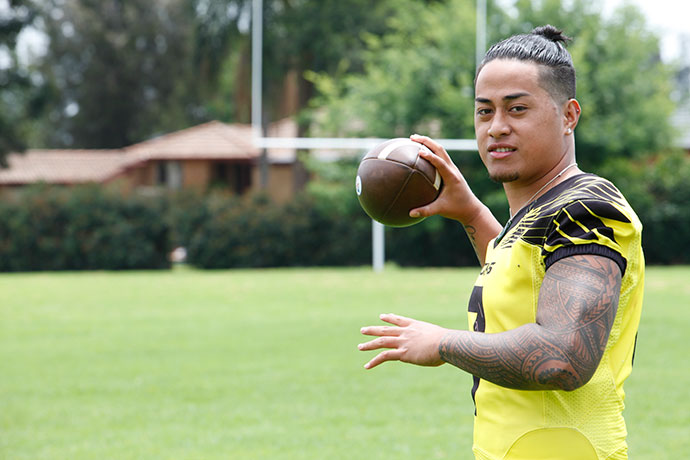 His season may be coming to an end next week but Nepean Ducks quarterback Travis Tamapua admits he's thoroughly enjoyed his first year of gridiron in Australia.

The 20-year-old moved from his home on the Hawaiian island of Oahu to a house in Mt Druitt earlier this year and quickly became the face of the new local Gridiron NSW franchise.
Tamapua began his American football career at age 14 and soon after was a key member of his high school football team. He was even set to play for the University of Hawaii before relocating to Australia for family reasons.
Speaking with the Weekender, Tamapua explained how he went from a rising football star in Hawaii to an unknown Duck in Penrith.
"We'd been planning to move to Australia for a long time because my mum's family lives here," he revealed.
"Before I moved here some friends of mine informed me about the gridiron situation here in Penrith so I went to the fields in Cranebrook to check out a training session. That's where I met coach Lee Hines.
"I added coach on Facebook and he messaged me about training and when the season was due to start. I showed up to every training session to make a good impression."
After watching impressive highlight videos of Tamapua on YouTube, coach Hines instantly gave the young Hawaiian the role of running his team's new offence.
Tamapua said he relished the opportunity to be the Ducks' starting quarterback in their inaugural season but admitted it was a struggle initially, adapting to his new and inexperienced teammates.
"I got over it quickly and ended up getting comfortable with the boys. The environment is definitely different but I still get the same jitters when I'm playing," he said.
The popular American sport is developing a strong following here in Australia, which is only set to increase since the recent news of NRL superstar Jarryd Hayne's departure to America to pursue his own NFL dreams.
"Hayne had a big impact on rugby league and a lot of kids looked up to him, so they're probably going to want to try American football now as well," Tamapua said.
In similar shoes to Hayne, 28-year-old Ducks fullback and kick-off returner Matt Kelly played rugby league for more than two decades before switching to gridiron.
"I'd been a fan of the sport since I was a teenager and always thought about playing it," the St Marys local said.
"I've scored two touchdowns so far, which were both a huge buzz."