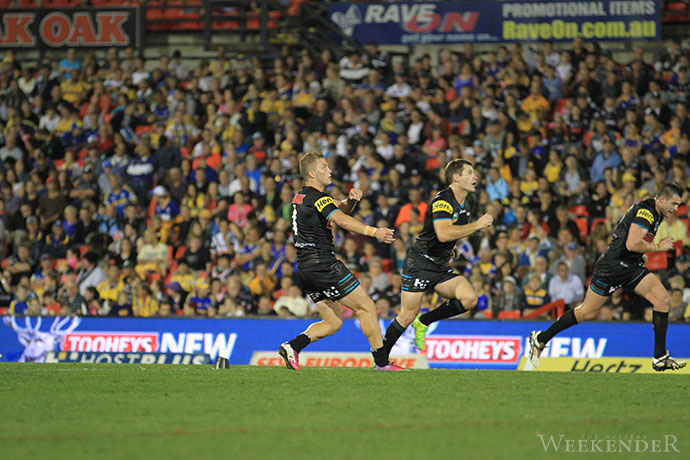 Matt Moylan isn't making Penrith fans any promises but there's a huge chance the local junior could be an even better player next season after his recent Four Nations campaign.

While Moylan failed to get any game-time for Australia during the month-long series, he was able to able to mix, mingle and train with some of his rugby league idols, which he admits had a huge impact on him.
"Probably the highlight of the whole experience was meeting the players, especially the ones I followed growing up," Moylan told the Weekender.
"Guys like Greg Bird, Greg Inglis, Cameron Smith and Cooper Cronk – I watched them growing up and tried to learn stuff off them. Being in camp with them was something special."
One Panther who did get plenty of game-time for Australia during the Four Nations was winger Josh Mansour. The 24-year-old enjoyed a breakout season in 2014 and was selected in all four recent Tests.
"It was real good to watch 'Sauce' play every game, he was playing some good footy as well," Moylan said.
"Obviously it's disappointing I didn't get a run but I was just happy to be in camp. Hopefully I will get a run down the track."
It seems the sky's the limit for Moylan in 2015 after coming off a brilliant season with the Panthers, which resulted in a preliminary finals appearance plus a City Origin selection.
When Moylan returned from an outstanding performance with City back in May, he returned to Penrith a much more confident player. He said he hopes the same will happen again on this occasion.
"I hope so but I can't let it get to my head. I've got to stay grounded, work hard in the pre-season and put my best foot forward to start the year," Moylan said.
Meanwhile, the 23-year-old was officially unveiled as the new ambassador of Southlands Shopping Centre last Thursday.
"We were so proud when our other Southlands ambassador and sponsored athlete, local Penrith kayaking superstar Jessica Fox won double gold at the World Kayaking Championships… we are now looking forward to help develop another local sporting superstar and welcoming Matt as Southlands ambassador," Southlands Shopping Centre Owners Representative, Mark Hovey said.
"I'll have to pop in to Southlands after training every now and then," Moylan added.