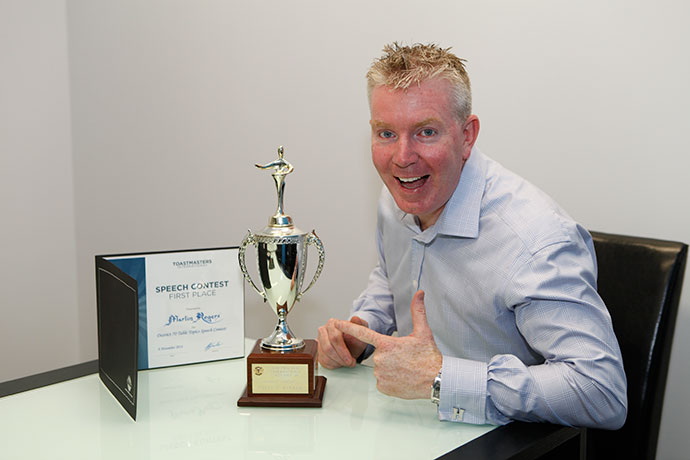 Just the thought of standing up in front of a group of people and saying a few words is enough to instil fear in some of the most important people in society, who shy away from all forms of public speaking.

Local businessman, Martin Rogers, on the other hand, actively seeks out the opportunity to speak in public and has recently won an impromptu speaking competition.
Over the past few months he has been competing in the Toastmasters competition, where he has been required on a number of occasions to give a two-minute talk on a topic without any preparation at all.
He worked his way through various levels and just took out the Toastmasters District 70 final, which is the highest level in the country.
"By competing I get to push myself to the next level. The pay off is immense as the skills I learn during competition and in Toastmasters as a whole, translates to a better performance in the workplace," he said.
"You may never know when you might be asked for a response to a question and it is nice to know you have learnt and practiced the techniques that allow you to respond with confidence."
Toastmasters is an international organisation that aims to help people of all ages gain confidence and overcome their fear of public speaking through competitions and structured programs.
There are over 313,000 members and clubs across the country.
For more information visit www.d70toastmasters.org.