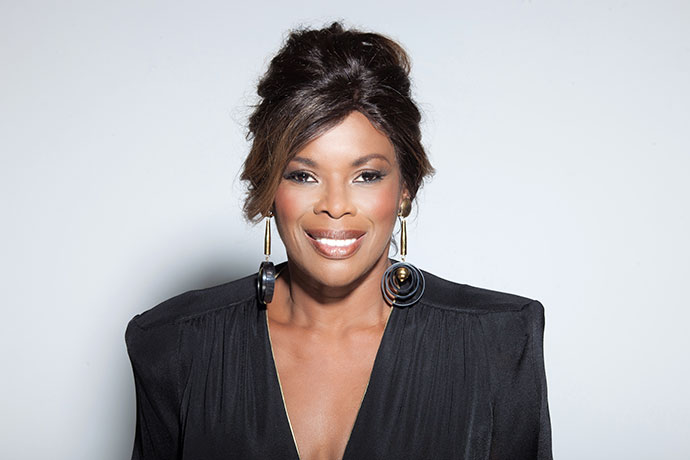 Though younger audiences may be more familiar with Marcia Hines from her appearance as a judge on 'Australian Idol', the talented performer has a long and impressive history in the music industry pre-Idol including several top 10 albums, hit singles and roles in stage productions including 'Jesus Christ Superstar' and 'Hair'.

Now, 20 years after her last originals album, Marcia has released 'Amazing', a collection of tracks written by Hines and her writing partners Tom Diesel and Ron E Jones.
"The plan between us was we wanted to write an album in which every song could stand up on its own. Each song was really strong and I do believe that we succeeded to do that," Marcia said about the new album.
Marcia admits she wasn't aiming for a particular theme for the album, though it ended up addressing many of the issues that are common to all music genres.
"The theme of most albums is life, you know, love lost, love gained, happiness, sadness and then there's a song on the album called 'Silent Tears' and it's just about how important it is to keep an eye on people who are around you and even though people say they're OK they mightn't be, just life stuff, you know."
Included in the album is a track called 'Remedy' which features guest vocals by none other than Aussie actor Russell Crowe.
The two have been friends for some time and have worked together on a previous musical project.
"Well, some years ago Russell invited me to sing on one of his tracks on one of his albums when he was working with the band 'The Ordinary Fear of God'. I went into the studio one night and sang with him on a track called 'Testify' and we really enjoyed working together," Marcia said.
"When I wrote 'Remedy' I thought 'oh gee we really need someone different to sing on this' and I called Russell up and I said 'listen, I've got this song and I was wondering if you'd be interested?' In true Russell form he said 'oh look send it to me, if I like it I'll let you know'," she laughed.
"It was just really cool, no pressure. So I sent it to him and he said he liked it. Russell then came into the recording studio in Sydney and he was just across it, he just knew exactly what he was doing. It was fantastic."
Spurred on by the new album and a love of performing, Marcia will be heading out on the road with a stop off at Rooty Hill RSL on Saturday, December 6.
The show will include a mix of old and new tracks, giving the audience a taste of a career that's spanned almost four decades.
"The band and I were in rehearsals for just under five weeks and we really handpicked all the songs for the show," Marcia said.
"It's so important that one doesn't forget where they've come from. I became famous because of my old songs and so they're well ingrained into the show and then there's some new ones sprinkled in."
Marcia's time on 'Australian Idol' saw her judging and mentoring some of our most well-known 'Idol' exports including Guy Sebastian, Shannon Noll and Anthony Callea. Though for Marcia the focus is clearly on the music, she admits that there's something really nice about the transparency that comes with TV work.
"Television's very good because I'm a believer that there's nowhere to hide," Marcia said.
"You have to really be yourself if you're going to be on TV and I used to say that to the kids on 'Idol' too, be yourself. Because if you're acting or play acting the real you is going to show and everybody's going to be surprised and think where'd the old person go. So yeah TV was good, I've had seven fantastic years out of 'Australian Idol' and the great thing was it introduced me to a totally new generation of people as well, which was great."
With a resume like Marcia's it's easy to wonder if there's anything left to do?
"What's not left to do?" Marcia laughed.
"There's so much and it's funny because a friend of mine is here from America, they're the most extraordinary singer.
"We just went on a walk and all we did – as you can imagine – was talk about music.
"I said to him 'isn't it the most amazing thing we open our mouths and this incredible sound comes out?'
"I am still fascinated by music and I'm still fascinated by the instrument that I am and other people are."
Marcia Hines will be performing at Rooty Hill RSL on Saturday, December 6. Tickets are $35. For more information or to purchase tickets visit www.rootyhillrsl.com.au or call 9625 5500.