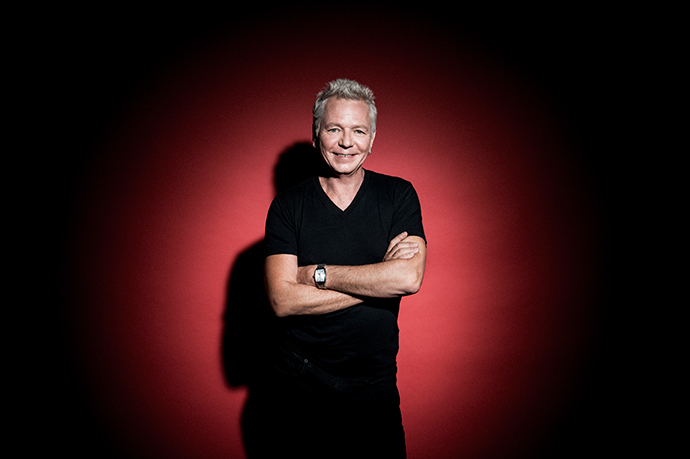 Iconic rock band Icehouse are responsible for some quintessentially Australian tracks including 'Great Southern Land', which just last week – along with Cold Chisel's 'Khe Sanh', The Go-Betweens' 'Cattle and Cane' and The Divinyls' 'Boys in Town' – was added to the National Film and Sound Archive's (NFSA) Sounds of Australia registry, which recognises sound recordings that have cultural, historical and aesthetic significance.

"I'm well aware of the list and, of course, I'm absolutely chuffed. That particular song was sort of a mystery from the very beginning and it never ceases to amaze me even to this day… it's some 33 years or something silly ago that I wrote it," Icehouse frontman Iva Davies laughed.
It's a track that brilliantly encompasses the sound of Australia without resorting to the usual well-worn clichés. This was something that Iva was aiming for when he sat down to write the track during a time when the country was full of national symbolism.
"I think there was a bid going on for the Commonwealth Games or something of national significance that was attracting a lot of clichéd jingoism, and so there were a whole lot of things kind of conspiring to drive me to go no, no, no, no, no, I don't want to hear about koala bears and vegemite anymore," Iva laughed.
"I want to do something that has the soul of the place woven into it."
With the help of a new synth that he'd brought back from America, Iva sat down and wrote 'Great Southern Land' – the first track written for the band's 1982 album 'Primitive Man'.
"Having been struck by that horizon when I was flying across Australia and also the horizon line of the sea and so on, these seemed to be very straight lines to me," he said.
"That was possibly the one picture that I wanted to convey and the way that I conveyed it was right at the beginning of the song by simply holding one long note."
Along with being recognised on NFSA's Sounds of Australia registry, Icehouse also received Platinum sales status for their compilation album 'White Heat: 30 Hits'. It's not surprising that with a changing digital music landscape – where it's easy to get your hands on songs from previous generations – the band are continuing to attract new fans.
"This has enabled a whole new audience to come to music which has been around for a long time and that's the only way I can really explain why it is that we look out now when we're playing to 15,000 people and recognise that an incredibly large proportion of them were probably not even born when I'd written that song," Iva said.
The perfect example of this support from younger generations came during Icehouse's appearance at Homebake in 2011 when the promoter asked them to feature their first album to the crowd whose average age was 20.
"I said to him 'but this audience won't have been born when these songs came out, this is going to be a disaster'," Iva recalled.
"And we got about two songs into the set and my bass player came over to me and he said 'have a look at how many 18-year-olds are singing every lyric' and it's true, they sang from beginning to end and it was quite extraordinary."
To celebrate the Platinum sales status, Icehouse will be hitting the road for the Platinum Concert Series, which includes a stop off at Penrith Panthers' Evan Theatre on Wednesday, January 21. The aim is to include tracks from their back catalogue with the band getting together in December to workshop ideas for the set list and see what tracks might work among a list of songs that fans may not have experienced live.
"[We're] hoping to reintroduce things which are perhaps not necessarily in the kind of short list of top 30 hits or so because some things work incredibly well live that perhaps didn't necessarily translate that well as recordings and vice versa, so the only way to really find out is to try them," Iva explained.
Icehouse will be performing at the Evan Theatre on Wednesday, January 21. Tickets are $58.50. For more information or to purchase tickets visit www.penrith.panthers.com.au or call 4720 5555.