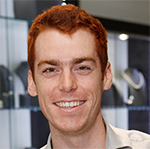 The collaboration with our friends at Pink Kimberley and the McGrath Foundation is now in full swing at York Jewellers. If you missed my column last week you still have plenty of time this month to get in-store and show your support for the McGrath Foundation.

By doing so you can go into the draw to win a stunning pink diamond pendant valued at $13,500. Check out our website for details at www.yorkjewellers.com.au.
Now to share some news that is close to home – I'm very proud of my younger brother Douglas who has just returned from Perth where he competed against other jewellers at the 2014 World Skills event.
World Skills is a huge deal as it is the nation's largest and most prestigious skill and trade showcase.
Doug took out the silver medal and had a fantastic time whilst competing against other skilled craftsmen and this now opens up the possibility of him receiving an overseas scholarship.
Also, there is exciting news in-store as at York Jewellers we will soon be introducing a new brand of Swiss made watches called Claude Bernard.
These watches are beautifully made and are available in a range of classic styles right through to a more sporty look in both men's and women's designs. Stay tuned for more on these soon.
Also, I wanted to take a quick moment to thank you for all of the support that we have been receiving lately. Not only at a store level but also via email and social media.
Our Facebook page and Instagram account has been inundated with wonderful messages from happy clients. Feedback from our clients is very important to us (be it good or bad) as we always strive to offer the best customer service!
If you would like to connect with us you just need to search for us on Facebook: York Jewellers and Instagram: @yorkjewellers.
There was also a bit of excitement in-store recently as we had a man drop to one knee and propose to his now fiancé! As you can imagine she was very surprised and absolutely loved her York Jewellers engagement ring!