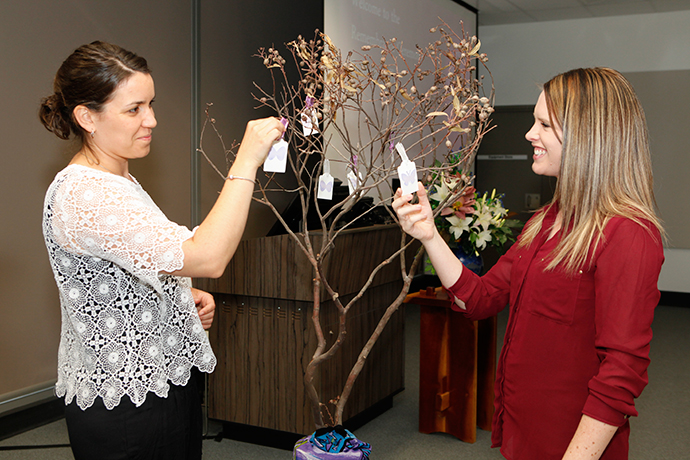 Wednesday was a reverent day at Nepean Hospital as parents and families who have lost a child in pregnancy or infancy converged for a special remembrance ceremony.

The second annual ceremony marked Pregnancy and Infant Loss Remembrance Day – a day for parents to honour and remember their babies who have passed away from miscarriage, stillbirth, SIDS or postnatal causes.
"Sadly, pregnancy and infant loss touches the lives of many families in our community. Each week a number of families at Nepean Hospital are affected by a loss," said Nepean Hospital Antenatal Ward Nurse Unit Manager, Shirley Hammond.
Last year, Miriam and Rob Arkwright of Cambridge Park found out that they were pregnant with their second son but at their routine 12-week scan, they learnt that things were not as they should be.
Their baby was diagnosed with a neural tube defect called Anencephaly and the couple were told that he would not survive outside the womb.
They continued with the pregnancy anyway and Elijah was born on January 3.
"My son was born and passed away two minutes later, so we got to have a little bit of time with him, which was nice," said Miriam Arkwright.
"It was very surreal. We were excited to see the colour of his eyes, whose hair he had and how chubby he was. I didn't feel the pain until we had to say goodbye at the hospital. No-one should have to leave hospital without their baby."
She attended the Pregnancy and Infant Loss Remembrance Day ceremony this year in memory of Elijah, who is still very much a celebrated part of their family, alongside parents who have been through similar and equally painful experiences in their own lives.
Among them will be one of Mrs Arkwright's closest friends, Rachel Namoa, who lost a baby at a similar time.
The women bonded over the tragic losses in their lives.
"It's an extremely important event as it acknowledges and values the lives of our babies and the depth of the family's grief," Ms Namoa said.
Ms Arkwright agreed, saying it was fantastic to have support during difficult times.
"It is so amazing to have a collective group of parents meet together who all have an understanding of what each other have been through. You often can feel lonely and as though no-one understands what you have been through," she said.
"It is an event that has given us a right and opportunity to miss our babies no matter how long it has been or how long they were with us."