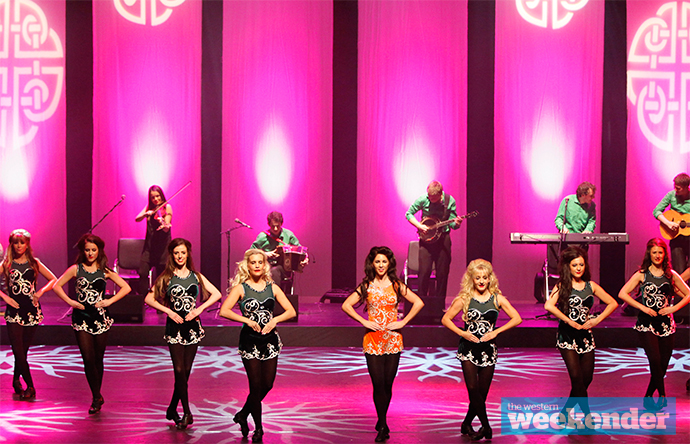 Over the last few decades there have been several major Irish music and dance productions touring the globe. Shows like 'Riverdance' and 'Lord of The Dance' have delighted audiences and promoted Irish music to the masses. But for producer Eric Dessauvages there was always something missing from these shows.

"When I saw the success of 'Riverdance' and 'Lord of the Dance', which are really fantastic shows, I thought it was a bit of a shame that those shows were made as Americanised productions," he said.
This prompted Dessauvages to get together with friends, musicians and choreographers to come up with something a little different to the shows that were touring at the time.
"We thought about creating a real show, a traditional show like you would see in Ireland with live music," the producer explained.
And so in 2001 'Celtic Legends' was born in Connemara, a beautiful area in the west of Ireland. The show features traditional Irish dance and music, which is presented live, something that gives 'Celtic Legends' a more stripped back and authentic feel.
"That makes a huge difference during the performance because it's based on live music and there's musicians and dancers on stage, there's a better interaction with the audience," Dessauvages said.
"The audience gets in the show much quicker."
The music for the show is played on traditional Irish instruments, like the Bodhran, an Irish drum, the fiddle and the uilleann pipes, a traditional Irish bag pipe.
Along with the musicians there are 18 Irish Dancers on stage performing group and solo numbers.
The talent here is clearly strong, with many of the dancers having toured with shows like 'Lord of the Dance' and 'Riverdance', as well as being placed in the top 10 during the 2013 World Championship of Irish Dancing in London.
When choosing who can perform in the show, Dessauvages likes to ensure that the dancers have a strong link to the Irish culture.
"All the dancers and musicians started to learn music and dance when they were four or five-years-old. So they all have the same kind of backgrounds and come from a very long cultural history. And it means something for them as well," he said.
Though he receives many resumes from people around the world who practice Irish dance, Dessauvages prefers to involve performers who have grown up in Ireland.
"For the artist this background corresponds to a very strong cultural aspect of the Irish culture," he said.
"It really means a lot for them. They are pushed by their families to do that. It's a very old tradition, which is repeated generation after generation. Nobody knew that before 'Riverdance' and 'Lord of the Dance'."
For Dessauvages the aim of the 'Celtic Legends' production is simple. Give audiences an experience they would only find in Ireland.
"The idea is to recreate the ambience you would have on a Saturday night in an Irish pub in Ireland with people playing music and a few dancers, but of course we've got a much bigger production because we have 24 artists on stage," he said.
The success of Irish productions surely says something about the connection audiences feel to Irish music. Dessauvages believes it's the energy that sets their music apart from that of other countries.
"The music is very, very lively," he said.
Though the 'Celtic Legends' have performed for more than a million people around the globe over the last decade, this will be the first time the production has made it to Australia. Talking to Dessauvages you can tell that he is excited to finally be able to bring the show to our shores.
"We are very happy with it. It's going to be a tough tour because it's two months on the road, 55 performances in 40 different places, but it's going to be fantastic. We are really all delighted and impatient to be there," he said.
"I'm quite sure the audience will be fantastic because I've had the chance to go to Australia a couple of times and the Australian people are lovely, fantastic, very good – so this is another reason why we are excited to get there."
'Celtic Legends' will be performing at the Evan Theatre on Monday, October 20. Tickets are $55 to $75. To purchase tickets visit www.penrith.panthers.com.au or for more information call 4720 5555.