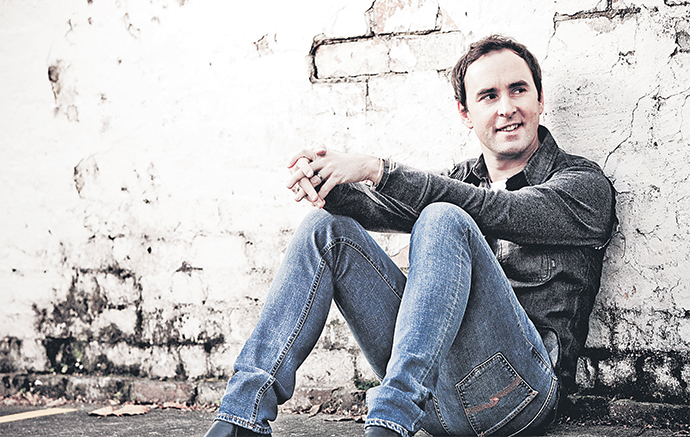 Most people will know Damien Leith as the winner of the 2006 series of 'Australian Idol', and though he has found a successful career in the music industry Leith's bio covers more than just the one creative endeavour. From hosting duties on TV shows like 'Saving Kids', 'New Idea Test Kitchen' and 'Great Easter Feasts', to flexing his creative writing muscles as a novelist including One More Time and Remember June, Leith is clearly no one trick pony.

"I find it very hard to sit still," he said.
"I like to give things a go for better or for worse. Some of them work really well, other times not so well but I love to just give things a go because you don't know if you're going to like it until you at least try it, so that's always been my motto."
Give it a go he did during the process of creating his latest album, 2013's 'Chapter Seven'. Leith not only wrote the music, but he also built a recording studio and took on the role of producer, ensuring that he was involved in the process every step of the way.
"It was just a whole different area for me, and really rewarding. I think I'm more attached to this album than I am to any of my previous albums because I was so involved in it on so many levels," he said.
Leith describes the album, his seventh studio release, as 'folk pop', drawing together elements of both genres to create a more stripped back album.
"Each song is a little mini story and I've kind of tried to keep the acoustic and the organic instruments really present on this album," he said.
More recently Leith has taken his show on the road with the 'Without A Fight' tour, which has seen the talented singer/songwriter playing venues across Australia.
The tour has clearly been a success with encore shows being added, including a gig at Rooty Hill RSL in October.
"With the encore shows we're really just trying to make sure we've gone everywhere that we could go," he said.
"We've had a great run and it's been great doing original stuff as well. I love doing all the covers but it's been really nice to get out there and play mainly my own songs and the audience have been really enjoying it."
Leith has been recognised for his music talents with five ARIA Award wins, including Highest Selling Album and Highest Selling Single, along with nominations for MTV Australia Video Music Awards and Helpmann Awards.
The multi-skilled artist has a very impressive resume and has maintained a successful career in the music industry in the years since his 2006 'Idol' win.
With the abundance of reality music shows – and hence, reality music show contestants – since that time, Leith believes the best advice he can pass on to budding artists is to understand that it's not only about the music.
"Everybody, myself included, we all go into it because we love music and we love all that sort of stuff – that's your drive. But the business side is the most important part to really get a handle on," he said.
"Because that's the thing that kind of makes and breaks people; or makes careers or doesn't make careers; or just keeps work coming in on whatever level you want to be at.
"It's knowing the business. You've got to understand it as soon as you possibly can."
Looking over his musical back catalogue, which includes both original songs and covers, Leith has particularly fond memories of his experience creating one album above all others.
"Definitely a highlight for me was my Roy album," he said, referring to 2011's 'Roy: A Tribute to Roy Orbison'.
"It was a special album. I got to fly to Nashville and I worked with Barbara Orbison and I worked with a lot of people associated with Roy and actually a very special friend of mine, a guy called Joe Melson.
"I've been writing with him for the last two years because of that album and Joe Melson was Roy's main co-writer.
"Things like that are just incredible. When things like that happen you just don't expect it and it's all because of that album.
"I've learnt so much from him now, he's an absolute mentor to me and opportunities like that generally don't come around. It's just been fantastic."
Damien Leith will be performing at Rooty Hill RSL on Friday, October 17. Tickets are $35. To purchase tickets visit www.rootyhillrsl.com.au or for more information call 9625 5500.