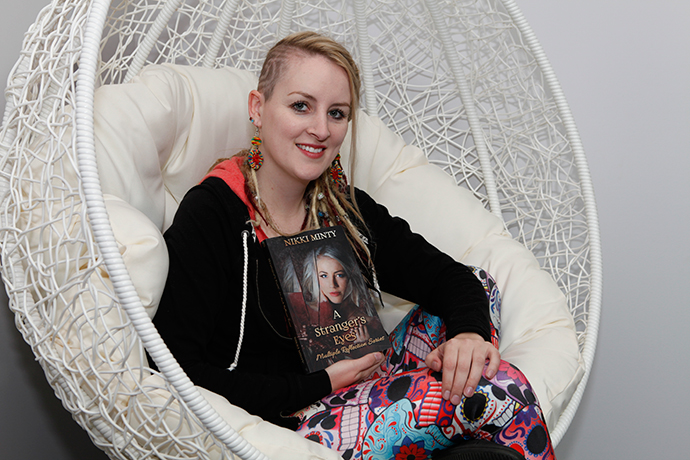 Nikki Minty is a mum of two, a vet nurse and now a published author.

The Cranebrook resident has been picked up by an American publishing company, who were very impressed with her first manuscript of the "dark supernatural" genre.
"I have always been a very imaginative person and I also received good marks at school for my creative writing," she said.
"Every day I have so many different ideas for stories and plots and I was one day telling my mum Carrie and my partner Kieran about this one particular idea I had when they told me that I just had to write it down."
One year of drafting and another year of fine tuning saw Ms Minty complete her first book A Stranger's Eyes.
The next challenge was to find a suitable publisher.
"I sent the book to Australian publishers but there's not a huge market over here for the 'dark supernatural' genre," she said.
So she changed tactics and looked overseas instead.
"There was a much bigger market in the US and so I changed all the spelling to American English and sent it off," she said.
"One publisher, Wild Rose Press, held onto my manuscript for six months and I was close to signing with them but in the end it fell through.
"I sent it to GMTA Ravenswood Publishing and they emailed me a contract straight away."
The tale itself is about English teacher Jesse, who after walking in on his girlfriend with another man meets the mysterious Sienna.
When Sienna opens up about her past, Jesse is determined to help her and along the way unravels a couple of his own secrets too.
The former Cambridge Park High School student said she was very proud of her novel and even helped design the cover of the book herself.
"My book cover was designed by local photographer Russell Murray at In Lights Photography," she said.
"I wanted to have Sienna's face in a shattered mirror, so at my own cost I worked with Russell in achieving what I wanted, rather than having it done for free through the publisher.
"The girl on the cover is Desiree Vassallo, a local girl, and the male on the back is actually my brother Trey Minty."
A Stranger's Eyes is available on website Amazon or through American-based online store Barnes and Noble.