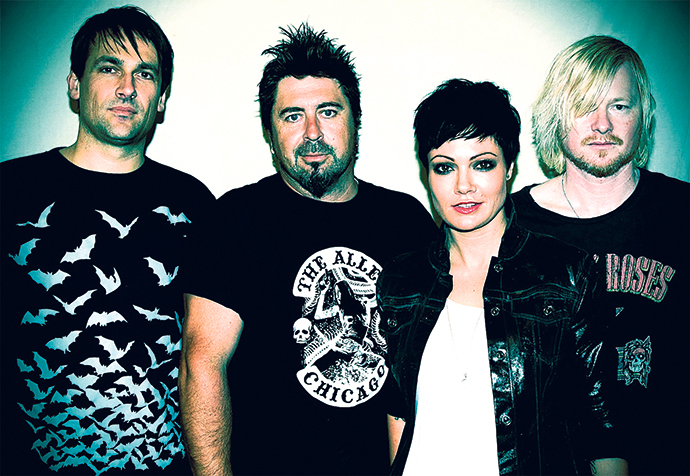 Sarah McLeod, accomplished solo artist and former frontwoman for Aussie rock band The Superjesus doesn't like to be restricted by genre.

"My brain is all over the place and I just get ideas every day that are totally different to the next idea," she said.
"They're all musical, they're all interesting, but they're never the same."
Take for example the project that she has in mind for the future, one that may surprise those that only really know Sarah as an iconic woman in the world of rock.
"I want to do a record in the next couple of years that's a swing record. I want to do a full Frank Sinatra swing record but write the songs, I don't want to be like Michael Buble," she said.
"I'll still write them and I'll keep them edgy and tough but with a bit of a swing edge, like big band stuff."
Fans of Aussie rock will no doubt have fond memories of Sarah's time with The Superjesus. Though it's been 20 years since the band formed they once again joined forces for a reunion show in February last year before heading out on 'The Resurrection Tour' in May and June – the first time the band had done an Australia-wide tour in 10 years.
"It was like being back with my brothers again and I'd forgotten how much I loved them, so for the soul it was nice to remember that part of my life again and remember who I was when I was younger and sort of feeling like that again because of the association of being with them," Sarah said.
"And then professionally it was great fun to learn how to play those songs again and fall in love with them again myself, because I hadn't listened to them for 10 years."
Reflecting on her time with The Superjesus Sarah does admit that it wasn't all smooth sailing.
"In the public it all looked like it was fun but inside it was always – we had a lot of dramas – we were never really that comfortable and happy and we had a few line-up changes."
Regardless of the up and down nature of life in a band, there are some very fond memories that Sarah has of those days, including one particular rock star moment.
"I remember we were on tour in America and we were in Chicago and I think we had two days off before the next gig. I had to come back to Australia for the Arias because we were nominated for Best Rock Album and so the label flew me back business class and I got to go from Chicago back to Sydney, fly in, win an Aria, party all night, catch the red eye out back to Chicago and pretty much got a cab from the airport straight to the backstage of the gig, said 'hey everybody we won, unreal', had a beer and then got on stage," she said.
"It was particularly cool. I was totally shattered and hungover but just running on adrenaline."
Come October The Superjesus will once again hit the road – this time with The Tea Party – but before that they will be making a special stop off at the Tattersalls Hotel. It will be what Sarah describes as a 'warm up gig', as the band haven't played together since the start of the year.
"Those are always – to me anyway – the most fun gigs because they're really impromptu and we don't really know what we're going to do until we get there," she said.
"There's some sort of loose energy about that, that I always find is the most fun."
Of course after two tours fans are obviously keen to know whether The Superjesus will be recording new material. While Sarah states that they have been 'doing a bit of writing' there is no definitive answer just yet.
"I think we'll know more about how we feel about it after this tour," she said.
Earlier this year Sarah hit the road for the 'Man The Lifeboats' tour with The Tea Party frontman Jeff Martin. The co-headliner tour was clearly a great experience for Sarah, who admits that the two are quite competitive with each other.
"I find myself really inspired by Jeff and I find that I play better when I'm playing with Jeff because I know that he listens to me and I'm just singing the living s**t out of everything just to impress him," she said.
After the success of the tour Sarah and Jeff will be joining forces on an upcoming album, much to the delight of fans.
"We just made a new album, we just finished it last week, that's going to be coming out next year so that's pretty exciting."
And of course, as you would expect from a musician who has no time for monotony, the album will be far from middle of the road.
"You wait until you hear the new album I've done with Jeff. Variety with a capital V!"
The Superjesus will be performing at the Tattersalls Hotel on Sunday, October 5. Tickets are $34.70. To purchase tickets visit www.tickets.oztix.com.au.