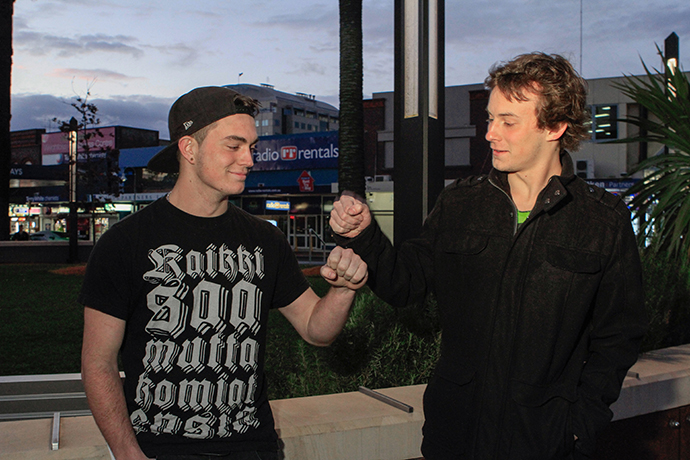 Brothers Damien and Jacob Berry have been awarded a Commendation for Brave Conduct after extinguishing a fire at a petrol station in Penrith back in 2012.

The pair were driving home after dinner on the evening of October 15 when something caught Jacob's eye.
"We were driving home and were just turning into our street when I heard a pop sound," Jacob explained.
"I turned around to see if Damien had driven over a bottle or broken glass when I saw a flash. The petrol station on the corner of Worth Street was on fire."
Damien said that before he knew it Jacob was out of the car and running back to the petrol station.
"I turned my car around and parked it to block off the entrance to other drivers," Damien said.
A handy pair to have around in a crisis, Damien is a volunteer rural fire fighter and Jacob had just completed first aid training.
"The fire had been started after a man poured fuel over the bowser. It was on fire and there were flames leading up to the door of the shop," explained Jacob.
"My brother grabbed the fire extinguisher and I told him to clear a path for me and so while he did that I went inside to find the attendant."
Meanwhile, Damien extinguished the fire, having only weeks before completed a course through the Rural Fire Service on using fire extinguishers.
The female attendant was in shock but Jacob managed to calm her down and get a description of the male.
Security guards from Penrith Plaza had attended the blaze and with the details of the man, were able to track him down inside the Plaza within 10 minutes.
Damien said that afterwards, neither he nor his brother had thought too much about the event, and certainly didn't expect a Commendation.
"We never really heard anything about it until we received a letter in the mail," he said.
Jacob added: "Our dad has been a fire fighter for decades and so we have been around these sorts of situations before, it was just our time to shine instead".
The Commendation was approved by the Governor-General, His Excellency General the Honourable Sir Peter Cosgrove.
"To these recipients, I offer my warmest congratulations and express my sincere admiration for your brave actions," the Governor-General said.
"We are fortunate as a community and as a nation to benefit from your contribution, and it is fitting that you have been recognised by the Australian honours system.
"You now join the company of men and women whose actions have enriched our community and whose values we hold dear."