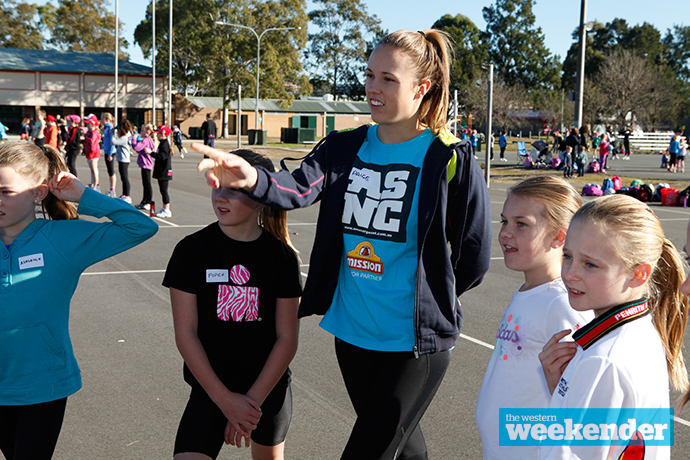 More than 150 junior netballers descended on Jamison Park earlier this week to take part in the always popular Anne Sargeant Netball Clinics.

Run by Sargeant, an Australian netball legend, and a team of experienced and knowledgeable coaches, the clinics are designed to bring junior netballers of all abilities in closer contact with their heroes, at the same time developing their skills, confidence and enjoyment of netball.
The former Australian captain and Netball Hall of Famer said she enjoys visiting Penrith each year to help develop the next wave of local stars.
"The clinics have visited Penrith for more than 15 years. I love it here, it's a lovely environment and Penrith is a very successful association," Sargeant said.
"It's a vast catchment in terms of population and a great developing area for juniors.
"Over the years Penrith have been able to mount some very successful state age teams."
One of Penrith's major success stories in recent years is that of Australian and NSW Swifts star Paige Hadley. The St Clair local, who suffered a season-ending knee injury earlier this year, was also in attendance at the clinic on Tuesday.
"We have a lot of different coaches that work with the children which helps enhance their knowledge," Sargeant said.
"The coaches have all played at a high level but more importantly it's the way they teach and relate to the kids."
Participants in the Anne Sargeant Netball Clinics are placed into age-based groups and are taught everything from the correct footwork to ball handling techniques.
Sargeant said she often receives tremendous feedback from local parents whenever she visits the area.
"The kind of emails I get relate to the manner we have with the children," she said.
"They find it to be a really happy, positive and safe environment, but one where there is a strong learning aspect as well as all the fun.
"We just really want the kids to sparkle and have fun."