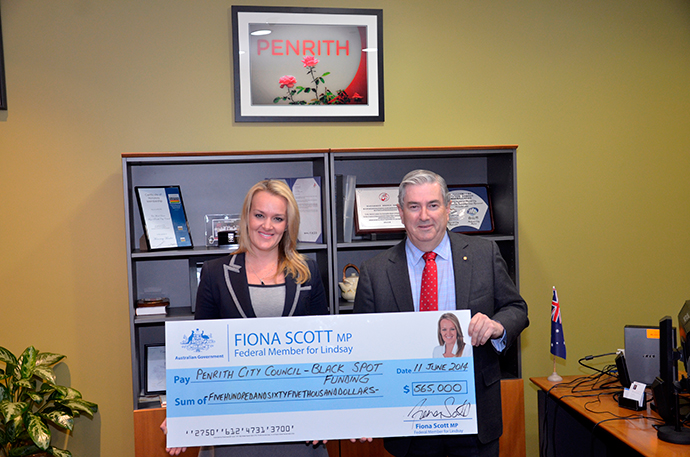 Three vital roads projects in Penrith will be completed thanks to the latest round of Federal Government Black Spot funding.

Lindsay MP Fiona Scott has announced that $565,000 will be allocated to Penrith Council to fix three dangerous roads in St Marys, North St Marys and Llandilo.
She said the investment is due to the Federal Government's record $500 million investment in the national Black Spot Program.
"Black Spot projects target dangerous roads to save lives and ensure our local roads are safer for motorists, cyclists and pedestrians," Ms Scott said.
"The program allows anyone to nominate an intersection or stretch of road they believe should be considered for a safety upgrade to benefit the local community.
"A recent evaluation of the program found fatal and casualty crashes are reduced at treated sites by 30 per cent, which effectively translates into saving one life per year for every 84 projects."
$450,000 will be allocated to upgrades for Glossop Street in St Marys, in particular the intersections with King and Brisbane Streets.
Safety on Glossop Street was first raised as an issue in the Weekender in 2012, after the Roads and Maritime Services revealed that in the five-year period from January 2007 to December 2011 there were a total of 135 crashes along the busy stretch of road, with 58 of those resulting in injuries.
"Out of the 135 reported crashes, 116 crashes occurred at, or within 10 metres of the intersections along Glossop Street," said a Roads and Maritime Services spokesperson.
In Llandilo, Second, Third and Ninth Avenues will receive upgrades totaling $90,000.
And in North St Marys $25,000 will be used to Griffiths and Viney Streets.
Penrith Council Mayor Ross Fowler thanked Fiona Scott and the Federal Government for the substantial contribution and said the investment would improve local road safety.
"This investment in Black Spot projects will deliver safer roads through targeted upgrades which have historically delivered proven results," he said.
"The projects were recommended by a panel of independent road safety experts and will be delivered with the help of Penrith City Council during the 2014-15 financial year."