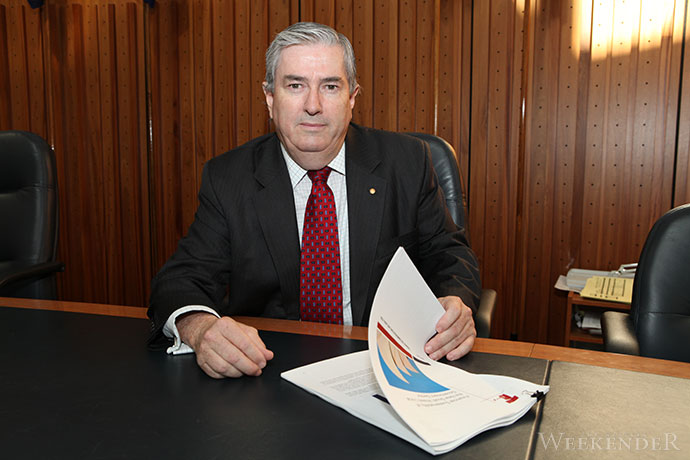 We'll take your roads and infrastructure but not your airport is the message Penrith City Council has for Prime Minister Tony Abbott.

At Council's Ordinary meeting on Monday evening, councillors reaffirmed their opposition to an airport at Badgerys Creek and were furious that a decision had been made on the airport before an environmental impact statement (EIS) had been completed.
Cr Kevin Crameri motioned that Council write to the Prime Minister and Lindsay MP Fiona Scott asking when an EIS would be released and when Council would be invited to have a say.
Also part of the motion was a clear statement that Penrith Council is against a second airport at Badgerys Creek; and especially a 24-hour airport with no curfew.
"There is so much of a problem. This council has sat on its hands too long and now we are playing catch-up," Cr Crameri said.
He raised concerns about fuel pollution, traffic and aircraft noise.
"We have heard about all these great infrastructure announcements to accompany the airport but we have been crying out for these before the airport issue," Cr Greg Davies said in support.
"I just think it is a disaster waiting to happen as [the operators and government] are not going to get their money out of it.
"[Politicians on both sides] are supporting it but there has been no talk of an EIS. The announcement should have been 'we are going to release an EIS', not that 'a decision has already been made'."
Cr John Thain said that he was very disappointed with the conduct of the Prime Minister.
"The Prime Minister insisted that he would be a Prime Minister of 'no surprises'. He also said that big infrastructure projects would go through Infrastructure Australia. Well he has given us a surprise and it hasn't gone through Infrastructure Australia. It is estimated that for every dollar spent on Badgery Creek we would only get 80 cents back so no-one wants to touch the project."
Cr Mark Davies downplayed the significance of Cr Crameri's motion but defended Mr Abbott.
"There is nothing really new here so I am happy to support it. When you nut [the motion] down it is really just confirming what we already have said before," he said.
"The Prime Minister did say that a decision would be made and he has followed through with that."
Cr Bernard Bratusa, a staffer for Lindsay MP Fiona Scott, took offence to the criticisms of Mr Abbott too.
"When he went to the election he said he was going to make a decision. Now whether you agree or not a decision has been made," he said.
"This investment is critical and the EIS process will be done correctly. We need to be a proactive Council.
"It was an ALP Minister that turned the sod at that site [former aviation minister Bob Collins on June 26, 1992]," Cr Bratusa added.
Cr Greg Davies quipped, "Yes and we got rid of him!"
Mayor Ross Fowler said that airport still remains an opportunity for Penrith.
"The issue is that we actually do not know what is being proposed," he said.
"But it should be looked at as an opportunity. It's not really just the airport, it's about the 10,000 hectares of employment lands around it and the airport could be a catalyst for this development."
The motion was passed.
Meanwhile, airport advocate, State Member for Londonderry, Bart Bassett, has called for further planning of the rail link to serve Badgerys Creek airport.
On Monday, NSW Transport Minister Gladys Berejiklian announced that the government had begun planning for a continuation of the South West Rail Link to extend to Badgerys Creek and on to St Marys, where it would connect with Western Line services as well as south to Narellan.
Mr Bassett called on the government to include consultation regarding the identification and preservation of a land corridor for connecting the North West Rail Link to the Western Line, therefore enabling the creation of a western Sydney orbital rail network.
"Why stop at the Western line," he said.
"Securing such corridors now would reduce the price of construction because such projects would be able to be surface transport links rather than tunnels.
"Let's include these projects in the planning stages of the airport to ensure NSW has a clear and simple transport plan for the future, a future with an extra 1.7 million Sydney residents by 2036 who will quite rightly expect the transport options and freedoms of a large global city.
"Let's do this right. Let's do this now."