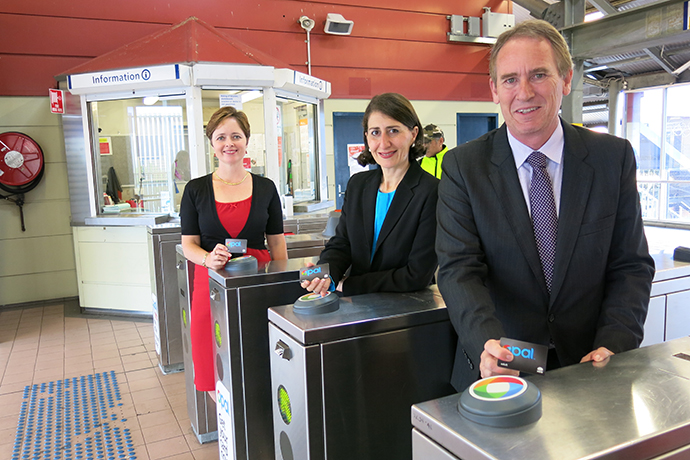 The Opal electronic ticketing system, set to change the future of public transport, continues to roll out and is now available for use at St Marys, Penrith and Emu Plains stations.

NSW Minister for Transport, Gladys Berejiklian, visited St Marys station on Friday, February 28, to announce the addition of 26 new stations to the system.
"I am really pleased with how the roll out is going. It has been glitch free so far," she said.
"I actually came here to St Marys on a train from Sydney using my opal card, which is really cool… It is just like having an e-tag in your pocket."
The Opal card is a tap on, tap off system that calculates fares based on the distance travelled by the holder and in often offers better value for money and special discounts.
Users travelling from Emu Plains, Penrith or St Marys to the city (a 35 to 65 kilometre trip) will pay a maximum of $50.40 a week.
"If you compare it on a single ticket you can save up to 13 per cent. We understand that around 90 per cent of customers will be better off or the same in terms of the cost but the better news is that it will be much more convenient for everybody," Ms Berejiklian said.
The system will continue to be rolled out across the state and will also include local bus routes by 2015.
"A lot of people in Erskine Park and St Clair catch buses and then catch the train, the fact that it will all be interlinked at the end of the year will it convenient and stress free. It is a fantastic boost for western Sydney," said Member for Mulgoa, Tanya Davies, who joined Ms Berejiklian at the on Friday.
Member for Londonderry, Bart Bassett, who also visited St Marys station, said the system would save time for both regular public transport users and those who only use it from time to time.
"If you are not a regular user of public transport it is still another one of those great cards that you can keep in your pocket… You don't have to think about where you are going or what ticket to buy – you just tap on and tap off," he said.
For more information or to order your Opal card, visit www.opal.com.au.