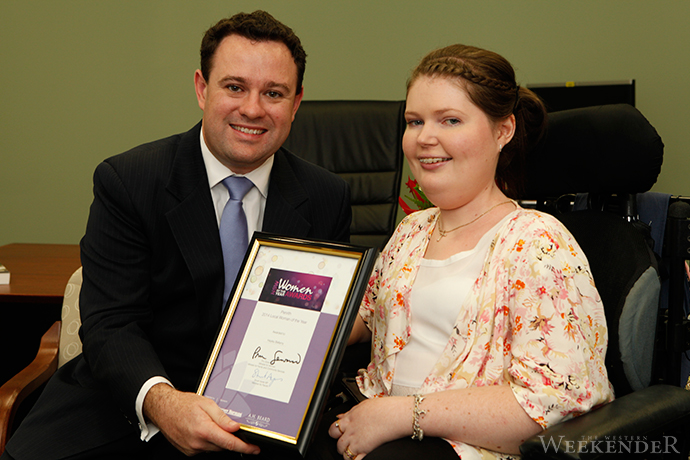 Hayley Bellamy has been named Penrith's 2014 Woman of the Year.
Diagnosed at 18 months of age with Spinal Muscular Atrophy, Ms Bellamy is reliant on an electric wheelchair and needs assistance for most of her physical needs.
She was an Ambassador for the 2012 Don't Dis My Ability Campaign and worked towards breaking down some of the obstacles in the area of employment, by encouraging equal employment opportunities for all those with a disability. Not letting anything get in her way, Ms Bellamy completed a Bachelor of Arts, majoring in psychology and is in the process of completing her Bachelor of Design Visual Communication / Information Technology.
She has also completed telephone support training at Lifeline, committing 92 hours of volunteer telephone support for the first 12 months following training.
Somehow, Ms Bellamy also finds time to participate as a volunteer with Anglicare, assisting with administration.
State Member for Penrith, Stuart Ayres was proud to announce this week that Ms Bellamy was Penrith's Woman of the Year – a well deserved honour.
"Hayley is an inspiration to the people within the community by not accepting physical limitations whilst in pursuit of her goals," Mr Ayres said.
"I congratulate Hayley on her dedication to achieving her goals and in encouraging others to strive for theirs. This award is an expression of the appreciation the people of Penrith have for everything she does," he added.
The annual NSW Women of the Year Awards recognise the achievements of women across the state and acknowledge inspirational role models, women who have demonstrated excellence in their careers and women who have made significant contributions in their local communities.