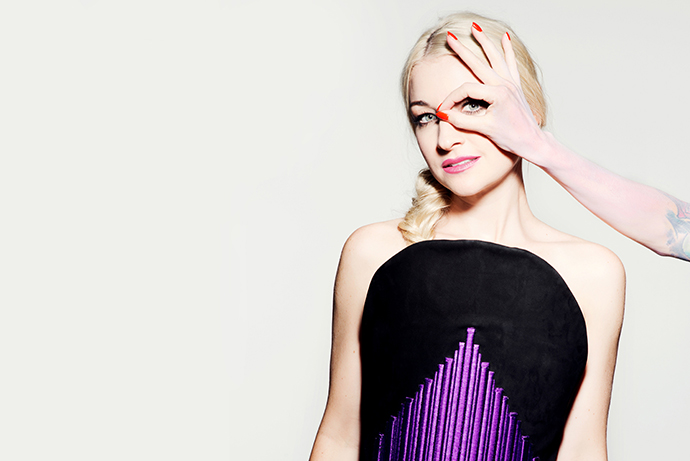 While most musicians would love the support of a major record company, Kate Miller-Heidke decided to spurn her former label and turned to her fans to fund her latest album.

The Australian singer parted ways with Sony Music, who had produced her three previous albums, to create the newly released 'O Vertigo!', which Miller-Heidke had more creative control over.
"I felt it was time to step up and take ownership of it. I'm not really making music for mainstream commercial radio, I'm making music for my fans and I just wanted to experience complete creative freedom and not have to answer to anyone really," she said.
She used the innovative method of crowdfunding via the website Pledge Music, which allows fans to donate funds and pledge to pre-order the album.
In return, fans who assisted or donated got the chance to receive merchandise items, fan bundles and unique experiences such as having their name printed in the album's liner notes or being on the guest list of every Miller-Heidke show for life.
While Miller-Heidke wasn't initially sure how effective the process would be, her campaign was the most successful of any Australian artist on Pledge Music, with her target for funds being reached in just three days.
"I feel enormously grateful, I suspected they [fans] would be really supportive but I didn't expect that it would happen so quickly, we reached our target in three days and now it's up to over 200 percent and I certainly didn't expect that," she said.
"It means that I've been able to make a record on the same budget as I ever had on a major label, which is amazing".
Now after generously donating their money, Miller-Heidke's fans will finally get to hear the final product when she performs at the Garden Grooves event at the Blue Mountains Botanic Garden on Sunday, March 9.
Two of the songs from 'O Vertigo!' have already been released, but the majority of the album is yet to be unveiled and the singer said she was excited to perform her new music.
"I always love playing in the Blue Mountains and this will be our first gig touring the new album, so it's exciting, we'll be debuting a lot of brand new, never heard before material," she said.
The music on 'O Vertigo!' provides a strong contrast to her third album 'Nightflight', with Miller-Heidke inspired by early 90's pop and wanting to escape from the moody sound of her previous record.
"I think what inspired me was feeling like I wanted to react against my last record, 'Nightflight', which was quite a dark, introspective, complex record. And I wanted to create something that was a lot more colourful and straight forward," she said.
British musician Passenger, who wrote the chart-topping hit 'Let Her Go', collaborated with Miller Heidke and provided vocals for the song 'Share Your Air.
Rather than meeting in a recording studio, the pair embraced the digital advances in music and worked over email.
"It felt really easy, we've worked together before, Passenger and I, I sang on his record a few years ago so I sort of already had a sense of who he was as a musician and I could already hear his voice singing the melody in my head," Miller-Heidke said.
Although the singer's main focus is her self-penned music, she also has a classical and operatic background and believes her technical music education has helped her pop career.
"I do think it's really shaped me as a musician definitely, and I think having a solid technical basis has really come in handy, particularly when I've got fairly punishing touring schedules," the singer said.
"Just being able to stay in good vocal health night after night, I think having a good warm up and warm down routine and knowing the basics of how to breathe correctly has helped me a lot".
She has never fully abandoned her love for theatre, and will be performing in an opera in New York later this year as well as writing her own children's opera with Opera Australia, which will be debuted in 2015.
With her new, independent album about to be released and an original opera in the works, it seems that Miller-Heidke has finally escaped from the control of the industry and can express herself freely.
"…there was certainly the pressure to get to the chorus before one minute and put more hooks in and all that sort of stuff and now it's great, I can do whatever I want to do," she said.