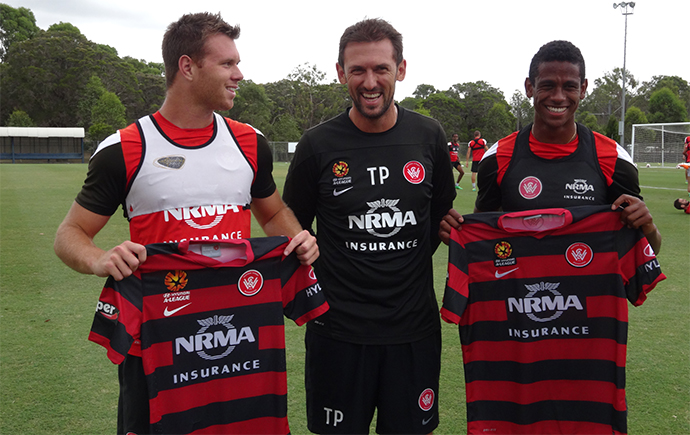 The Western Sydney Wanderers have boosted their side with two new signings ahead of the upcoming Asian Champions League which begins on February 26.
Earlier in the week, the Wanderers signed 24-year-old defender Daniel Mullen from Chinese club Dalian Aerbin as well as 23-year-old attacker Golgol Mebrahtu from the struggling Melbourne Heart to predominantly play this season in the three Asian Champions League games at Pirtek Stadium.
Both players agreed to a two-year deal with the club which will see them in the Red and Black until the end of the 2015/16 season.
Speaking before his first training session with his new club, Mullen, who also played with Adelaide United for a number of years, outlined why the Wanderers was the place to take his career to the next level.
"There were many things that attracted me here, first of all the coaching staff and the support behind the scenes is first class," Mullen said.
"Also, the boys here are very good and you can't go past the supporters, it's like playing in Europe every home game."
Fellow recruit Mebrahtu, who also spent time at the defunct Gold Coast United before joining the Heart, agreed saying the pedigree of the club is what stood out for him.
"A chance to work with Tony Popovic and the rest of the coaching staff, and the chance to play in front of the fans is an unbelievable opportunity for me," he said.
"To work with Tony is a big one for me. You can see he's got the best out of each player in the squad and I'm looking forward to working with him to get the best out of myself."
Mebrahtu, who was born in Sudan, didn't seemed too worried about leaving his former teammates down south behind.
"These things happen in football, people move on," he said.
"I'm very happy to be here and I'm looking forward to working hard and being successful with this team."
Wanderers coach, Tony Popovic, said he was delighted to have fresh, young talent around the club.
"We believe these two players have a lot of potential and we're going to do all we can to get that potential out of them and take them to that next level," he said.