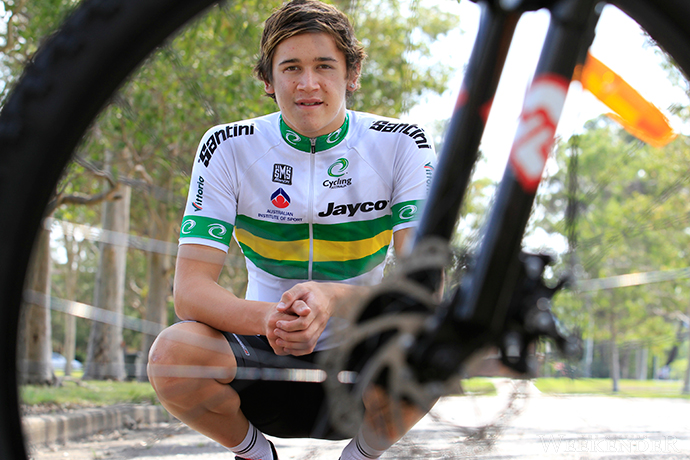 Like most kids, Jack Edwards was a sports mad child growing up.

He dabbled in everything from basketball to soccer and even cycling. Not once did he envision a sport he did on a casual basis as a kid would turn into a dream career.
These days the rangy 17-year-old, who used to ride bikes for fun, has transformed himself into a cycling machine and was last week selected to represent Australia for a second straight year at the 2014 World Junior Track Championships in South Korea in August.
The Penrith Cycling Club cyclist believes representing his country two years in a row proves he deserves to be one of Australia's biggest up and coming cycling hopes.
"I competed at the Junior World's last year in Scotland, and to make the team again shows it wasn't a fluke the first time," Edwards told the Weekender.
"I was very proud to represent Australia the first time, I was overwhelmed. I don't even think my family saw it coming to be honest, so I can't wait to do it all over again."
Edwards, who's predominantly a track cyclist racing in veledromes, will look to compete in Australia's team pursuit team as well as defend his own title in the omnium.
However, he may be up for a bit of a surprise if rumours about Seoul's veledrome track are true.
"I heard it's an outdoor track which is unusual for that kind of competition," Edwards said.
"It's also concrete as opposed to wooden and the track is 333m in length compared to the Olympic standard 250m.
"It will be a lot different to what I'm used to but I think it will be good. We've got a couple of outdoor tracks in Australia and I've been racing on them a fair bit."
Last year Edwards won the prestigious NSW Sports Federation Junior Sportsperson of the Year award, which came as somewhat of a surprise for the recent school graduate.
He's currently in daily training to one day achieve his ultimate dream.
"I hope to compete in the Olympics on the track or a professional team on the road racing grand tours," he said.