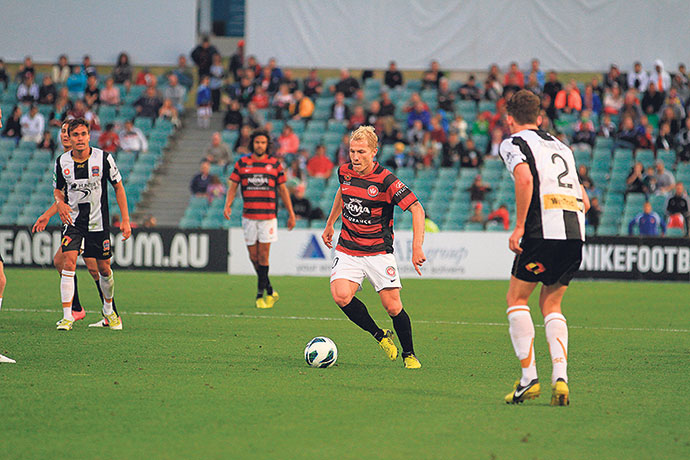 The Wanderers' current form confirmed the adage that there are two sides on a coin; there is good and bad, reason for hope and discontent.
With a clash against Adelaide looming as the second leg of a quick away swing, the Wanderers' form on paper seems to be fairly good. The five matches leading up to, and including, the derby netted the side 10 competition points.
That's a solid return; the league leading Brisbane Roar has only managed nine points during that same period of play, despite playing with memorable attacking verve and daring.
If you were to run the "eye test" over the top two clubs the Roar would easily come out on top at the moment.
Their brand of pass-and-move is very pleasing to viewers and provides a symphonic aura that is unique to football.
This play has been punctuated by goals that will be used on highlight reels for next season's promotions, including a 22-pass monster against Melbourne Victory in round 14 that had talking heads in meltdown over Australia's "Littler Barcelona".
However, their open play has left them vulnerable to losses against the likes of Adelaide United and Newcastle Jets in recent weeks, despite being in fantastic form.
On the other hand the Wanderers have built on their solid defensive foundation and used that to stay in the games when their attack becomes disjointed and sporadic.
Last week's Sydney derby was a typical case of the Wanderers doing their best to stay level and scoring an 87th minute goal to snatch three points, arguably against the run of play.
No one would call it pretty, but there is a mature campaign strategy at work and the players understand that consistency is vital – this defence has only conceded more than one goal on two occasions this year.
The other side to that coin is that the Wanderers had only scored more than one goal in a game on one occasion out of their last 10 matches going into Tuesday's match against Melbourne Victory.
This is a sign the Wanderers haven't fixed the attacking problems
If the Wanderers are to round into the form needed to chase down the Roar, goal-scoring is still the biggest issue that needs to be resolved.
Being up only one goal against lower ranked teams week after week leaves too little room for error. Tony Popovic seems to be working on the creativity of the team in recent times. This showed up in the promotion of Daniel Alessi to the starting 11 last week and due to injury 16-year old Alusine Fofanah is due to make the bench this week.
The biggest jolt to hit the club on the field since its inauguration will be the news that Shinji Ono will reportedly return to Japanese club, Consadole Sapporo, after the season ends. Ono has been a boom signing for the most recent A-League additions and his presence will be sorely missed.
Off the field the blow may be felt financially as Ono would have been a specific fan draw to Pirtek Park during the Asian Champions League matches the Wanderers have scheduled.
Fairfax has reported that Ono has been growing homesick because his wife and children are still living in Japan. Obviously, given those circumstances on top of any professional reasons, Wanderers fans will greet the great player's decision with gratitude for his services rendered to a fledgling club.
In light of Ono's impending departure the recent promotion of young talent will likely continue this year in search of another creative outlet for the team.
Against Adelaide the side need to explore their creative options in order to build a premiership team.