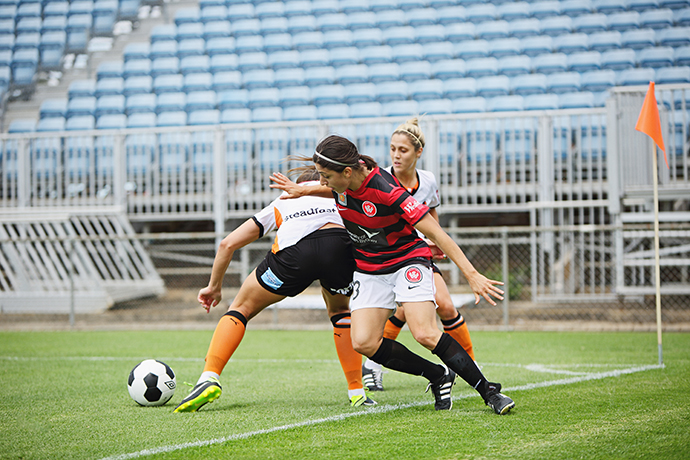 Western Sydney Wanderers striker Catherine Cannuli has announced that she will retire at the conclusion of the Westfield W-League 2013/14 season.
The classy forward will play her final home match this Sunday when the Wander Women host Sydney FC in the Derby at Campbelltown Stadium before playing her last match against Perth Glory in Western Australia.
A Wanderers Foundation Player and the club's all-time leading goal scorer, Cannuli boasts a Westfield Matildas career that spanned seven years and was a part of Australian football history when, along with Teigen Allen and Servet Uzunlar, the trio became the first women to ever sign multi-year contracts in the Westfield W-League.
Along with her playing achievements, Cannuli was a strong presence at community appearances and a role model for girls looking to get into football having inspired many young players to take up the game.
While she leaves a strong legacy both in the community and on-the-field, Cannuli does not want her association with the game to end.
"I want to get into coaching as the development of women's football is something I'm very passionate about," explained Cannuli.
"The women's game has a lot of potential for growth and I think it's important for ex-players to stay involved as we need more role-models in the game to keep connected.
"Women's football in Australia can get pushed to the next level and become the best league in the world. I want to help make that happen."
As well as staying in the game, Cannuli plans to spend the next year concentrating on a beauty salon she owns and building a house on land she has recently purchased.
Previously playing at Sydney FC and Brisbane Roar, it was at the Wanderers where Cannuli truly felt at home.
"I spent the second and third season of the Westfield W-League with Sydney FC and I had one year in Brisbane but it was when the Wanderers were formed that I finally found a place to call home," she said.
Having grown up in Liverpool, to play for her home town club meant everything for Cannuli.
"It was amazing to be able to play for the Wanderers," she said.
"The moment I got a phone call saying they were going to field a team I knew there was no chance I was going to be staying in Brisbane. I'd be coming home and playing for my home team.
"I hadn't felt so passionate about a club that I had played for in my whole life. Not since I used to watch Marconi in the National Soccer League as a kid.
"To have a team from your area, where you grew up, where your football life began – to have something like that in Australia is something I had never felt before."
Having begun playing at a young age with a boys team at Marconi, Cannuli soon made her debut for the senior women's side at age 13 before joining the institute program. From there she was selected in the Australian squad for the U19 World Cup; an impressive feat for a 15 year old.
The quarter final loss to Brazil in that tournament remains Cannuli's career highlight.
"We had a very strong team and only lost 4-3 in extra time against a side who was the best in the world at that time," she said.
"It was a special tournament for me and an honour to represent my country at that level."
The magic wasn't to continue for much longer though as two years later Cannuli gave up football due to a combination of injury and lack of opportunity in women's football at that time.
Following four years away from football the creation of the Westfield W-League and the Socceroos participation in the 2006 FIFA World Cup brought back her passion for the game.
"I gave myself the goal to return, get back on the career path and represent my country," she said.
"I started back with a NSW Premier League club and within three months I was contacted by Sydney FC to come back to the elite level.
"By the end of my first season I had won the grand final and was back with the Westfield Matildas which was unbelievable having been out of the game for four years."
While confident retirement is for the best, Cannuli concedes her final match will be an emotional one and that she will miss many aspects of being a player.
"I'm going to miss being in the team environment; it's great being around the girls, travelling together, going to training and just enjoying football," she said.
"The friendships you make along the way make football truly special. I've made so many friends in football all around the country and they last a lifetime."
Cannuli will play her final match in front of home fans this Sunday, February 2 at Campbelltown Stadium when Western Sydney Wanderer hosts Sydney FC at 3pm.