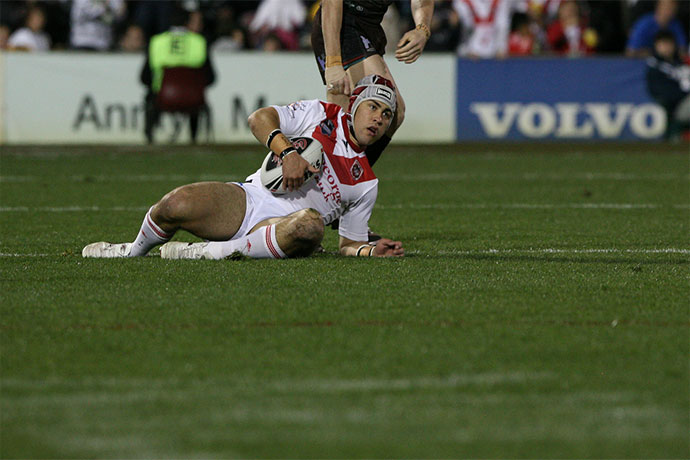 New Penrith recruit Jamie Soward knows he has a huge task ahead of him convincing the Panthers' faithful he is the right man to lead them into a new era.

Criticised by the media and fans for much of his career, the former St George-Illawarra and London Broncos pivot is looking to put the past behind him and become a new, fresher version of himself.
"Going away [to the UK] I had some reflection time that maybe I'm trying to sometimes prove myself to the wrong people. Maybe I need to prove it to myself. I don't need to prove to anyone else I can play," Soward said.
"I just need to get back into a comfortable environment, where I am now, and work with people that want to work with me and get the best out of me.
"The last couple of years I've struggled and I understand that, but that's the pressure of being in the halves. This year is a fresh start for me, I'm re-energised and ready to go."
THE WESTERN WEEKENDER IS YOUR HOME OF THE PENRITH PANTHERS IN 2014 – WITH THE REGION'S #1 NRL COVERAGE
It's fair to say Soward's time at the Dragons, where he delivered a long-awaited premiership to the club in 2010, was a rollercoaster ride.
After leading them to four straight finals appearances from 2008 to 2011, Soward's career hit rock-bottom in 2013 when he was granted a mid-season release to leave the NRL for a short stint in the UK Super League.
With the side not performing to their ability and constant rumours of tension between Soward and coach Steve Price, the 29-year-old left the club in controversial circumstances.
"I had good friends at the Dragons and I still keep in touch with people there but I'm at the Panthers now and I'm not going to talk about the Dragons all year or for the next four years," Soward said.
"The last couple of years is finished now… I'm not going to cry over what happened. If I can get it (Dragons talk) out of the way now before the season starts that's good because it's a less of a distraction for the team. I'm all about the Panthers now."
Penrith has struggled to build a successful halves combination since the partnership of Craig Gower and Preston Campbell was broken up, and Soward's job will be to provide stability and consistency in the key playmaking positions.
Soward is just one of many new recruits to join the Panthers' squad in 2014. Combine that with a stellar crop of young superstars coming through the ranks and you've got an outfit that could really surprise many come March next year.
"The young playing talent at Penrith excites me most," Soward said.
"You watch Grand Final Day when you have two teams (NYC and NSW Cup) competing for trophies. That shows the talent here has been recruited well and they're bringing people through at the right time.
"Penrith have always been a fringe team and I guess we need to take that next step as a playing group and understand that we do have a talented roster but it's going to be hard work."
The NRL season kicks off on March 6.