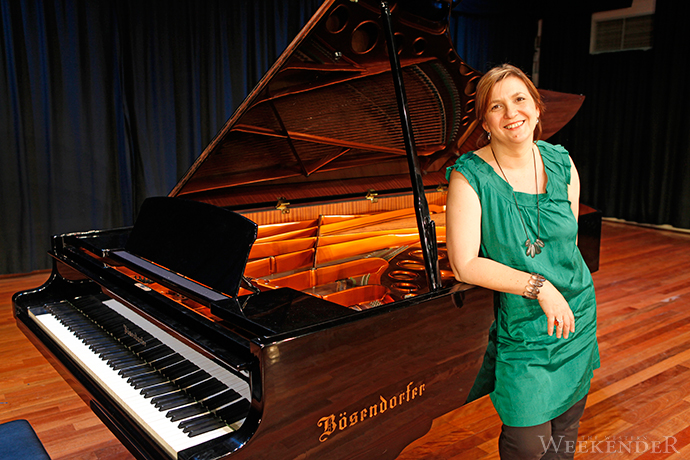 With climbing patronage numbers, ticket sales and revenue, CEO of Penrith Performing and Visual Arts (PPVA), Hania Radvan, believes that the organisation deserves to be on Santa's 'nice list'.

And so she has submitted her Christmas wishlist, including a new concert piano, electronic doors and signage for the Joan Sutherland Performing Arts Centre.
Ms Radvan presented PPVA's annual report to Council on Monday night, and said that 2012-13 had been a very big year for both the Joan and Penrith Regional Gallery.
"One of the figures that really astounded me was, based on a 365 day year, we have 770 visitors through our doors every day," she said.
"We are certainly a hive of activity, but one of the best kept secrets."
Last financial year, PPVA presented 56 seasons, delivered 441 workshops and sold 140 tickets day – with just one box office staff member.
But, in order to keep on top of their game and continue to grow the arts in western Sydney, Ms Radvan said there are a couple of items that would really jazz up the Joan in particular.
"Being relatively new, it is easy for me to see some of the improvements we could make, for example, the architectural limitations of the Joan Sutherland Centre," she said.
"The back of the building faces the street and was designed with the aesthetics of a museum, however, we have no signage facing the street, and no poster boards anywhere in the centre so people don't know what seasons are upcoming.
"An electronic noticeboard would do wonders to inform people about all the great shows we have on throughout the year."
Also, the building doesn't have electronic doors.
"This can be a limitation for our patrons, many of whom have disabilities or a wheelchair, so we need to improve our accessibility," Ms Radvan said.
And, with a stellar 2014 season of concerts to celebrate 25 years of the Joan, a new concert piano would certainly be a great birthday or Christmas present.
"We have a beautiful Boesendorfer, Austrian concert piano and one of the great attributes of the Joan is that unlike many other regional arts centres, we have our own concert hall," she said.
"I think we can still get a few more years out of our concert piano, but we will be establishing a fund for the piano."
One of the great highlights of the Joan's season next year is the Richard Bonynge Piano Series, with four national and international pianists to play concerts throughout the year.
"We are still attracting talent and putting on world class events, but we need to ensure we can continue that tradition by having good facilities."