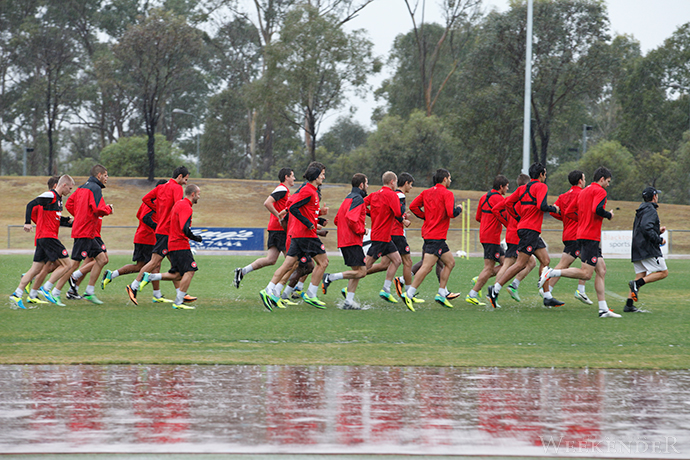 A hard-fought win away to Melbourne Heart lifted Western Sydney Wanderers clear into second place on the A-League table with an important match against Melbourne Victory looming this week.

After five rounds completed the Wanderers row on the league table reads 3-2-0 for 11 points. Crucially, the Wanderers are the only side with a zero in that third column. Every other side has suffered a loss in the first five games.
Looking back on the fixtures already played it will be the draw at home to a young, inexperienced Wellington Phoenix that stands out as the chance gone begging for Wanderers to take more points.
An example of the importance of securing wins at home against lower quality sides in the A-League.
Wanderers stood atop the table for almost 48 hours last weekend after their second straight win on live free-to-air television on Friday night. It took an 89th minute winner by Kwame Yeboah for Brisbane Roar to take the points against the Mariners and vault them back to the top of the standings.
A little bit of context will help solidify the good start in the minds of Wanderers fans: last season the first five games earned them just seven points and they went on to finish with 57 at the end of the season.
The 11 points recorded after five games this year is actually slightly ahead of the expected result of 10 if last year's total is to be replicated. This season's early going suggests a similar resilience when behind on the scoreboard as well as a solid defensive structure.
One of the best aspects of the 1-nil victory against Heart was the goal coming from Shannon Cole.
Firstly it was a welcome contribution from a player getting his first start of the season, indicating a desire and competitive spirit in the wider playing squad.
Perhaps more notably, this was a goal not scored by Tomi Juric, who has become the obvious focal point of the Wanderers attack this year. In a long season it's not safe to rely on individuals to score all the goals and last week against Adelaide United Juric seemed the only one likely to trouble the scorer.
Other team members on the score sheet is a good development continuing on from where they left off against Sydney FC instead of last week's one dimensional attacking performance.
Although Wanderers had at least three clear scoring chances against Heart – capitalising on one – they were far from in control for most of the match.
Heart played like a team eager to turn a string of poor results around and out-worked, out-passed and continued to spend time in Wanderers' half.
Melbourne Victory will pose more of an all-round threat this week and a clearer plan than "get in front and stop them scoring" will need to emerge if defeat is to be staved off for another week.
Victory have polish in front of goal, especially in James Troisi, who was unlucky not to be rewarded for his hot early season form with a Socceroos call-up.
Archie Thompson and Matt Nichols are also very attacking players and know how to create and score goals.
Put simply, the performance last week won't be good enough for Wanderers this week against a team looking to rebound after losing to a 10-man Sydney FC and a side considered one of the real threats to the Premier's Plate this year.
An area to watch that might decide the match is the defensive midfield-pivot positions. Mark Milligan has been wonderful there for Victory this season. His screening and distribution will need to be matched by Aaron Mooy.
This will be a tough one and a draw could be on the cards.