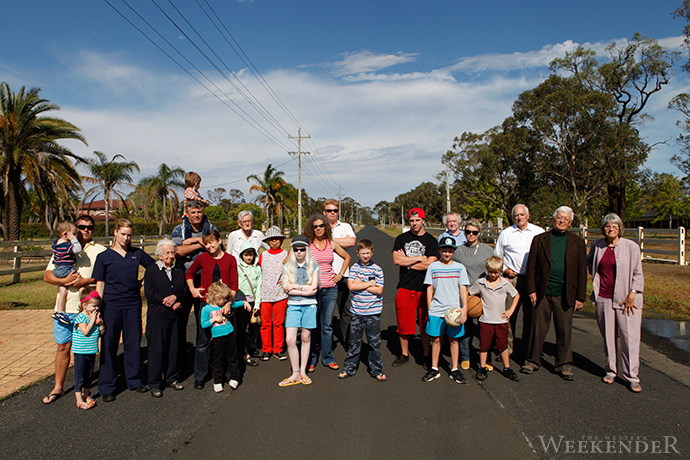 Lines have been drawn at Hinxman Road, Castlereagh – literally and metaphorically – after a decision by Penrith Council to zone the east and west ends of the road differently has sparked a row between residents.

The Penrith Local Environmental Plan (LEP) has zoned the eastern end of Hinxman Road 'E4 Environmental Living', a zoning attributed to land with special environmental and scenic values that can accommodate low impact residential development.
The western end of the street however, has been zoned 'RU4 Primary Production Small Lots' to support and encourage further agricultural activities and home enterprises.
Peter Schweinsberg, who lives at the eastern end also known as the Castlecrest Estate, says that residents from both ends of Hinxman Road would like the zoning to remain E4 due to fears about noise, traffic and the changing character of the area.
"I moved from the North Shore to my house in the Castlecrest Estate and can see that there are many homes all along Hinxman Road that are becoming 'executive-style dwellings'," he said.
"There are existing hobby farmers who do use their five acre blocks for agricultural purposes however we do not have a problem with most of them. But with more young families moving into the area to take advantage of the lifestyle here, we do not want to see that character changed by allowing more noisy agricultural activities.
"We suggest that making West Hinxman Road RU4 was an arbitrary decision, one designed to placate a limited number of property owners to the detriment of most of the properties west of Castlecrest Estate."
Resident John Sweeney agrees: "We want to enjoy the benefits of rural living where the community can grow and develop… there are residents from both ends of the road who want to see Castlereagh develop as a family community."
However, Mary Vella, who lives at the western end of the road and runs a hobby farm, says she supports the change to RU4.
"We may be the 'noisy minority' but there are those of us who support RU4. There are actually additional restrictions on market growers under RU4 as you need development application approval under RU4 and everyone is regulated in the market growing business," she said.
Councillors made a preliminary decision on Monday evening when discussing the LEP to support the RU4 zoning, however, the matter will return to Council in the next Ordinary Meeting later this month.