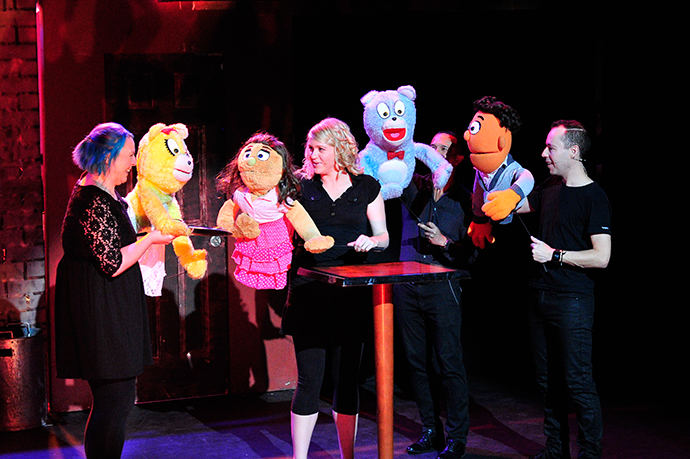 New production, 'Avenue Q' may feature adorable puppets but don't be fooled by the cute-factor – this hilarious, risque musical is anything but 'Sesame Street'.

The show, which has enjoyed cult status on Broadway, will be coming to the west when the Penrith Musical Comedy Company present their production of 'Avenue Q'.
After auditions in June and five long months of rehearsal, the cast are gearing up for opening night at the Joan Sutherland Performing Arts Centre on Friday, October 18.
With a mix of human and puppet characters, 'Avenue Q' uses naughty humour and a heartfelt storyline to explore universal themes and issues, from sex and love to drinking and politics.
The plot focuses on college graduate Princeton, who moves to a shabby apartment in the Big Apple but becomes disillusioned with his prospects.
Living on Avenue Q, Princeton meets a host of weird and wonderful neighbours with their own problems, from girl-next-door Kate to the odd couple Rod and Nicky, to internet sexpert Trekkie and more.
Always a crowd-pleaser, 'Avenue Q' has won the Tony Award for Best Musical, Best Score and Best Book – and its catchy songs, such as 'It Sucks To Be Me' and 'Everyone's A Little Bit Racist', never fail to delight audiences.
Performer Jordan Vassallo, who plays the role of Nicky, said that the musical is guaranteed to make people laugh.
"'Avenue Q' is a musical like nothing you've seen. Having the puppets and live actors on stage at the same time creates a really interesting dynamic. It's hilarious, it taps into that childlike memory of 'Sesame Street' and puts an adult twist with quite naughty humour, which is great," he said.
Although 'Avenue Q' stars a range of cute characters, the show is undoubtedly geared towards adults and tackles a range of mature issues, making it a puppet show that's definitely not appropriate for children.
"It's definitely not for kids, it's billed as not for kids. It really comes down to parental discretion, personally I'd say anyone over 16 would love it and actually get the humour, and that's the most important thing, getting the jokes in it. There is swearing, there is puppet nudity so it's obviously not for everyone but it's definitely funny," Vassallo said.
But despite its more mature target audience, 'Avenue Q' did source some inspiration from children's entertainment, with the basic premise being based on the television show 'Sesame Street'.
The rumour that 'Sesame Street' characters Bert and Ernie are secretly lovers is given credence in 'Avenue Q', with gay partners Rod and Nicky forming an odd couple that mirrors the 'Sesame Street' roommates.
"Rod and Nicky live together and they're very loosely based on the characters of Bert and Ernie from 'Sesame Street', so very funny, very, very good characters. When I first heard the soundtrack and saw the musical myself, Nicky was always the character I dreamed of playing if I ever got the chance," Vassallo said of his role.
Unlike most musicals, 'Avenue Q' is unique for its use of puppets, which can be a challenging experience for thespians who are used to having their full range of facial expressions and body movement to express emotions on stage.
"Because you have no facial expression or smile, you have to really adapt hand movements, gestures, speed, the way that you say lines to tell the story, since a face can't. The good thing is in 'Avenue Q' we don't hide the puppet performers, we're there live and you actually start to feel the connection when the live actors are working with you," Vassallo explained.
On top of a providing great entertainment, 'Avenue Q' gives local performers the chance to shine on stage, with the cast featuring many talented actors from Sydney such as Simon Dane, Fiona Brennan, Rob Hall, Grant Jones, Kat Shaw and others.
Vassallo, who also works as a bank manager, has been in the entertainment industry for 13 years working as an actor and is currently the President of Holroyd Musical Society.
He said that community theatre groups such as Penrith Musical Comedy Company were incredibly significant in helping young people get involved with drama and performance.
"It's such an important vehicle for young actors, performers, theatre makers to be able to access community theatre. Penrith has a great niche market where it has an excellent venue in the Joan Sutherland, a really passionate creative team and committee and they're constantly putting on productions that appeal to younger generations… they're choosing shows that the youth will want to do," he said.
'Avenue Q' will run at the Joan Sutherland Performing Arts Centre from Friday, October 18 until Saturday, October 26. Tickets are $30 for concession or $35 for adults. For a full list of performance dates, or to book, visit www.jspac.com.au or call 4723 7600.