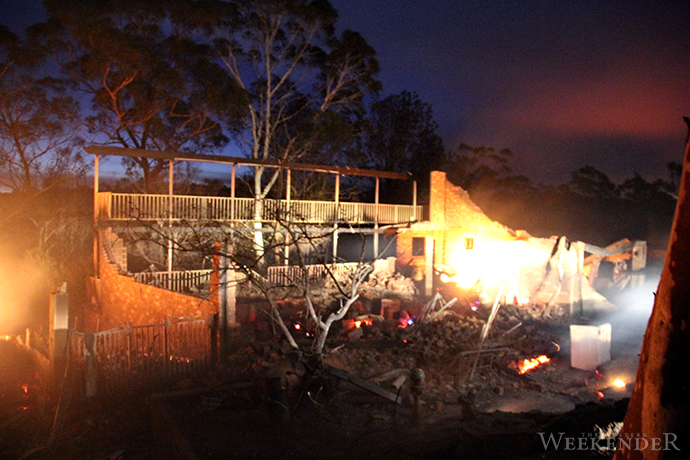 The Penrith community has shown enormous spirit this week in pitching in to help our neighbours in crisis as one of the worst bushfire emergencies in the State's history wreaked unimaginable havoc throughout the Blue Mountains.
The worst hit regions have been Springwood and Winmalee, but right throughout the Mountains there have been stories of family homes being destroyed and livelihoods torn apart.
Hundreds of properties have been destroyed, but by some miracle, not one life has been lost in the Blue Mountains fire.
Just hours after the fire took hold last Thurday, the amazing generosity within the Penrith community was on show, with hundreds of residents donating blankets and other goods to be sent to evacuation centres in the Blue Mountains.
Numerous appeals and collection points were launched as locals chipped in to help, the smoke-filled Blue Mountains that had replaced the usually picturesque views from the Penrith Valley a constant reminder of the tragedy unfolding just kilometres away.
At the Penrith Musical Comedy Company's performances of 'Avenue Q' last weekend at the Joan Sutherland Performing Arts Centre, some $1,600 was raised by audience members who chipped in after the show to assist in the appeal.
"We will be collecting again at our performances this weekend and we really want to thank our audiences for their amazing generosity to help others in a time of need," said Penrith Musical Comedy Company President, Grant Jones.
"A number of our team have been affected by the fires and we hope even this small gesture can help those and the thousands of others who have been affected."
Nepean Hospital has been extremely busy, treating patients directly affected by the fires and taking in staff and patients from Springwood Hospital, which was evacuated as a precaution last Saturday afternoon.
Last Sunday, NSW Premier Barry O'Farrell declared a State of Emergency for NSW.
"This is not an action taken lightly by either the Commissioner, the Minister or myself, but it's important the Rural Fire Service and other emergency services have the powers and the resources they need to combat this threat," Mr O'Farrell said.
Declaring a State of Emergency means emergency services personnel can direct the public to evacuate an area or not enter an area; can order power and gas supplies to be shut off; can shore up or pull down buildings; and can enter premises to facilitate the exercise of these powers.
"It is an offence to obstruct or disobey these orders," said Emergency Services Minister, Mike Gallacher.The Animal Welfare League (AWL) shelter at Kemps Creek has been offering temporary emergency shelter for dogs, cats, and livestock.
"One of the most stressful things during a bushfire emergency is caring for and relocating pets. We want people to know that we're here to support them with emergency sheltering and veterinary care", said Simone Maher, AWL Veterinarian.
Purina Australia delivered food, collars, collapsible cages and bowls to AWL's Kemps Creek shelter for those in need.
Anyone directly affected by the bushfire in the Penrith area can call Storage King at Penrith, who are offering free short term storage.
Storage King is also accepting donations such as clothing, tin food, and bathroom needs such as toilet paper, toothbrushes, ladies care products and deodorants.
Storage King can be contacted on 4732 2111.
If you are concerned about the welfare of family and friends, please contact the Police Information Centre on 1800 227 228.
Continue to stay up to date with the bush fire situation by checking www.rfs.nsw.gov.au, listening to your local radio station or by calling the NSW RFS Bush Fire Information Line on 1800 679 737.