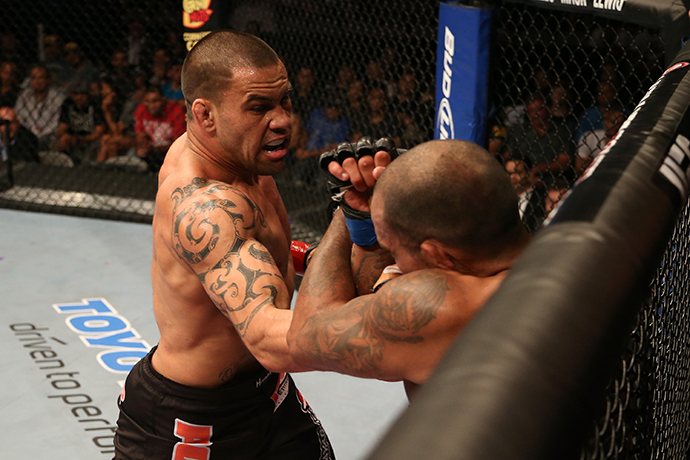 The recent rise of Kiwi-born Australian UFC star James Te Huna has been nothing short of phenomenal.

After beginning his fighting career as a 21-year-old in 2003, Te Huna, a Penrith local, has gone from competing in humble RSL clubs around Australia to huge arenas and stadiums in world cities like Las Vegas and London.
But despite his crazy lifestyle and new-found fame on the international Mixed Martial Arts (MMA) circuit, the now 32-year-old will never stop calling Penrith his home.
"I still live in Penrith, I do everything in Penrith," Te Huna told the Weekender on Wednesday.
"A lot of people talk to me about going over to the States and that I should be over there training to become a better fighter but I hate being away from my family and friends, I love being at home.
"I prefer to have training partners and sparring partners come to my home where I'm in my comfort zone. I don't want to be somewhere where I don't want to be, I hate it."
Te Huna is currently gearing up for his next worldwide televised fight, UFC Fight Night 33, which will take place at the Brisbane Entertainment Centre on December 7.
The much anticipated event, which is expected to sell out fast, will see Te Huna up against Brazilian and former UFC Light Heavyweight Champion, Mauricio 'Shogun' Rua.
"A lot of people will say Shogun is past his prime and at the end of his career but he's just come off a fight and I think I'll get one of the better Shogun performances," Te Huna said.
"Whenever he's fought after having time off through injury he's crap but when he's just come off a fight he's back to the Shogun he used to be, so he's going to be dangerous coming into this one."
Te Huna has fought 22 bouts in his MMA career for 16 wins (10 by knockout) and six losses. With fighters constantly developing new moves and ways to beat their opponents, Te Huna says it's hard to go into a fight these days with a game plan.
"I think a lot of fighters used to go into fights with game plans but now fighters go into fights with different tools in their arsenal," he said.
"I used to go into fights with game plans but now I try and go in with an open mind and expect anything."
Te Huna admitted he wasn't sure how long his UFC career would last or whether injuries will one day get the better of him but right now he's enjoying every moment of it.
"My biggest downfall is injuries – injuries play a big part, I'm always hurting myself," he said.
"I've been in the game for a long time, 10 years, so I've been banged up a lot. I've just got to be careful who I train with and that I do all the right things so I don't burn out. I'm a lot smarter now, I've learned a lot in the last two years."