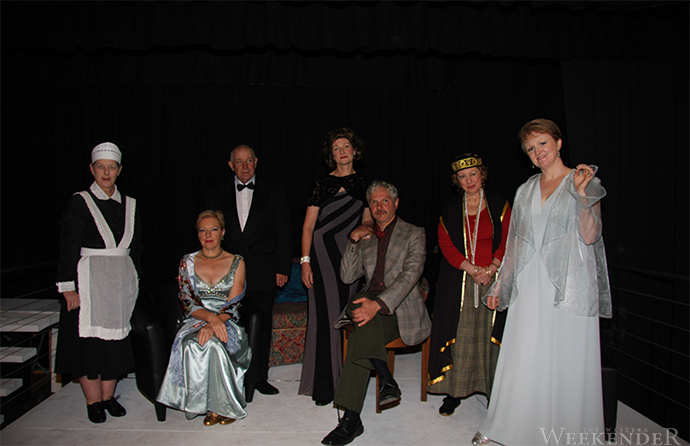 Get ready to be transported to the elegant world of the 1930's when Glenbrook Players stage their production of 'Blithe Spirit'.

The local theatre group will be performing a season of 'Blithe Spirit' at Glenbrook Community Theatre from Friday, November 15 to Saturday, November 23.
Written by the brilliant playwright Noel Coward, 'Blithe Spirit' is a celebrated play that has thrilled audiences since it was premiered on London's West End and has also been adapted into a film and a Broadway musical.
It follows the story of novelist Charles Condomine, who has a range of bizarre experiences as he begins to research the occult to find inspiration for the latest book he is writing.
He arranges a séance as after-dinner entertainment at a party he's hosting, but trouble arises and Charles gets more than he bargained for when the ritual actually works.
The medium called upon, Madame Arcati, is more effective than anyone expects and manages to conjure up the ghost of Charles' first wife Elvira.
As the night goes on, the party takes a dark turn and goes from festive to fiendish as the vindictive and vengeful Elvira causes mayhem in an attempt to get rid of Charles' current wife Ruth.
The play delves into chaos as Charles and Ruth work to exorcise their unwelcome blast from the past, and the eccentric Madame Arcati has to summon up all her power to reverse her magical actions.
Directed by Dot Ward, who also directed last year's successful production 'Pygmalion', 'Blithe Spirit' stars a host of talented local actors including Costa Karagounis in the lead role of Charles, Robyn Pope as the mysterious Madame Arcati, Madeleine Sheehy as the ghostly Elvira and Margaret Bell as Charles' strong-willed second wife Ruth.
'Blithe Spirit' will be performed at Glenbrook Community Theatre from Friday, November 15 through to Saturday, November 23. For bookings call 4739 1110 or visit www.glenbrookplayers.com.au.
Glenbrook Players is offering two free tickets to those households who were unfortunate enough to lose homes in the recent bushfire emergency. Please call the booking line on 4739 1110 to take up this offer.