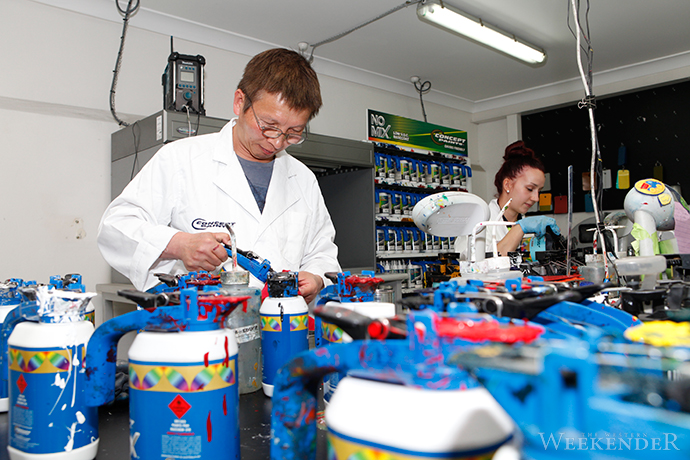 A St Marys manufacturer is asking for a level playing field when it comes to importing and exporting raw materials.

Concept Paints, founded in 1994 in St Marys, is the only Australian manufacturer of automotive industrial paints and competes against several overseas businesses.
However, Marketing Manager Tony di Matteo says that the business is being disadvantaged because the importation of some raw materials used to make the paints is not allowed; however, the same materials in finished product form can be imported.
"The business was started 20 years ago by brothers Joseph and Tony Kaltoum. Joe was an industrial chemist and saw that there were no local producers of automotive paints and thought it was a good industry to compete in," Mr di Matteo said.
Now selling over 1,000 specialised products, the St Marys business wants to expand but is being limited by regulations.
"Many of the raw materials used to make our products are imported, but in Australia we have very strict regulations and so some of the necessary materials cannot be brought in for research and development," Mr di Matteo said.
"But our competitors, who manufacture their products using those raw materials, import the finished products – so as you can see it is not favouring local manufacturers or jobs."
The National Industrial Chemicals Notification and Assessment Scheme (NICNAS) was established in July 1990 and governs what chemicals can be imported and used.
The company is hoping that discrepancies such as this will be fixed by the Federal Government.
"We have had a meeting with the new MP, Fiona Scott, and MP Bart Bassett and are hopeful that the new government, with the changes we are already seeing, will be able to help manufacturers such as ourselves," Mr di Matteo said.
"It is important that Australia retains companies such as ours because we employ 65 local people and contribute greatly to the Australian re-finishing auto industry, and have even broken into the American market."