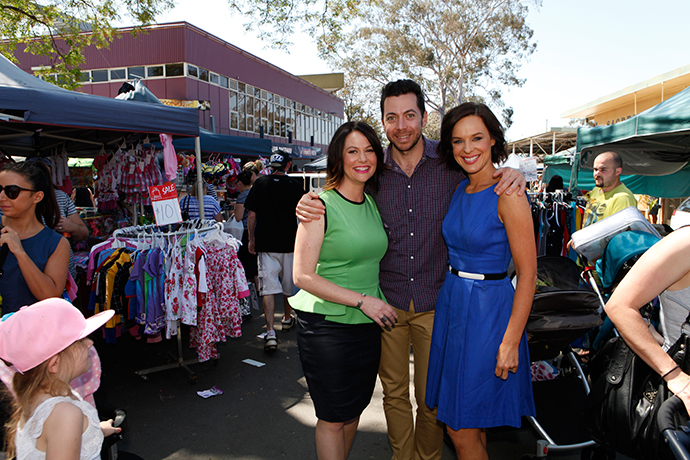 The new hosts of Chanel Ten's upcoming breakfast show 'Wake Up' aren't too worried about their longstanding competition on the other networks, instead the trio want to focus on making the best TV possible for their viewers.

Natasha Exelby, James Mathison and Natarsha Belling are currently on a whirlwind Australian adventure hopping from town to town in their big red 'Wake Up' bus to find out what real Australians want in a breakfast show.
"This new show is about finding out what our audience wants and I think certain markets are forgotten," Belling told FYI.
"We've had some fantastic feedback but one of the main messages people have said is they want to see real people have real conversations and we think that will be easy for us to do because we are throwing away the autocue and scripts, so it'll just be us three together having conversations," Exelby added.
Another exciting initiative the show is introducing to viewers is localised news bulletins in each state, something which is common overseas but very unique in the Australian breakfast TV arena.
"Often you'll watch the national news and there'll be a shooting out west but if you're living in Queensland that's not really relevant to you. Similarly if there's a storm in Queensland you don't really care in Penrith, so I think that will be a major difference," Exelby said.
While Belling and Exelby have been longstayers on Ten's various news bulletins over the years their male co-host in Mathison has joined the team with a very different television upbringing behind him.
Mathison's claim to fame was co-hosting 'Australian Idol' from 2003 to 2008 before quitting the hit show to work on fellow Channel Ten series 'The Project'.
"I don't know if I'm fully prepared to work in news but the beauty is I'm working alongside two excellent journalists who can fill in any gaps I might have," Mathison said.
"I think not being of a news background, my approach to interviews will be different, so I think we'll compliment each other really well."
Interestingly 'Wake Up' isn't the first time Channel Ten has entered into the breakfast television market.
In February 2012 the network launched the short-lived 'Breakfast', which ran for 10 months before getting the chop after poor ratings and viewer feedback.
But with former 'Sunrise' Executive Producer and breakfast television mastermind Adam Boland at the helm, 'Wake Up' certainly has plenty of promise.
"For us we are just concentrating on our game and you have to get it right from the outset," Belling said.
"When Adam joined the team, he is the best in the business and knows what works and what doesn't work on morning TV. What I love about working with Adam is he is very open-minded and he appreciates our opinions and thoughts.
"We're not worried about what other people are doing, we just want to make the best TV for our viewers."
'Wake Up' premiers on Channel Ten in mid-November and will be filmed on location at the Manly Surf Lifesaving Club.