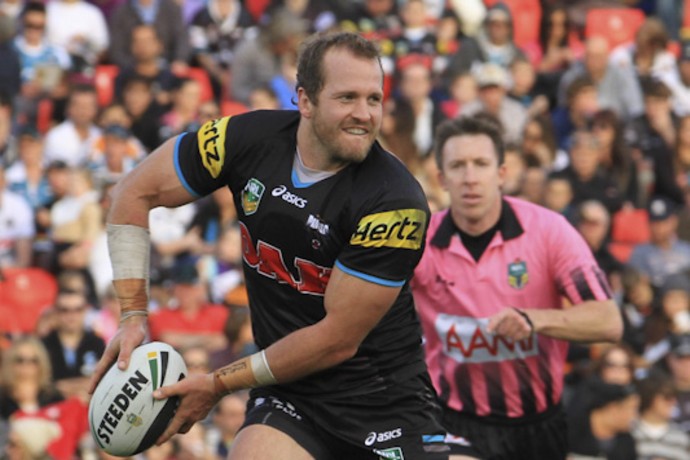 On Triple M's rugby league coverage last Sunday, Matthew Johns spoke of how difficult it was to make an away trip in the final round of the competition when you're out of finals contention.

This is the big fear I have for the Panthers leading into Sunday's round 26 clash with Manly at Brookvale Oval.
After an emotional year in which the side has gone from world beaters to cellar dwellers and back again, the reality is that round 26 means very little for Penrith – the first time all season that they are out of the race for the top eight.
2013 has been a year of over-achievement and a year in which Penrith broke new ground, and showed that 2014 will be much bigger and brighter and certainly more successful than the one almost over.
I've said during the week that 2013 – for all of its ups and downs – was the season Penrith had to have. It has been a circuit breaker year and I believe we'll look back on it as such, hopefully with our hands on a premiership trophy in either 2014 or 2015.
But let's not get ahead of ourselves, there's still one game to go, and it'd be a real shame for the Panthers to bow out of 2013 with a thumping at the hands of the high flying Sea Eagles, who toppled Melbourne last weekend at this same venue.
Sunday marks the final game in Penrith colours for a number of the side's stars, namely Lachlan Coote, Luke Walsh, Clint Newton and Mose Masoe. All four will want their final memory in a Penrith jersey to be a good one, but the reality is that while the heart might be in it, the body and the head knows that there's nothing to play for other than pride.
Manly, on the other hand, have the finals ahead of them and even with injuries disrupting their preparation, they'll want to get past Penrith easily to ensure their confidence is high.
So, how can Penrith beat Manly and what motivation can they use to do it?
For the players who are leaving, it is about playing for pride in the jumper that gave them opportunity. Whether it be Lachlan Coote whose first grade debut was in a Penrith jumper, or Luke Walsh whose first grade career was saved when the Panthers rescued him from the scrapheap at Newcastle. Clint Newton was brought here to do a job, and he should have pride knowing that he did that job.
For Mose Masoe, this one season at Penrith has been his best in football and the opportunities now available to him overseas have come because of the chance he was given by Panthers officials.
The future at Penrith is all about ensuring that the jersey means something, and for these departing players, it truly has meant something and it's time for them to step up and say thank you for that opportunity.
For the players sticking around, it's all about kicking off preparations for 2014 with a bang.
Players like James Segeyaro, Josh Mansour, Lewis Brown, Nigel Plum and Sam McKendry will all play a big role with the side next year and their preparation for this game should partly be aimed at giving us a glimpse of what 2014 will be like.
Against Canterbury last weekend, Penrith had a solid first half but failed to capitalise on their opportunities, and didn't build any real pressure on the Bulldogs thanks to kicks early in the tackle count and a failure to earn repeat sets.
If the Sea Eagles are to go down at fortress Brookvale on Sunday, it will be because Penrith is not only playing with heart, but with their head as well.
The only way to send Manly into the finals with a loss is to force repeat sets, slow the game and ensure the majority of the match is played in their half of the field. Give Manly an inch, and they'll take a mile.