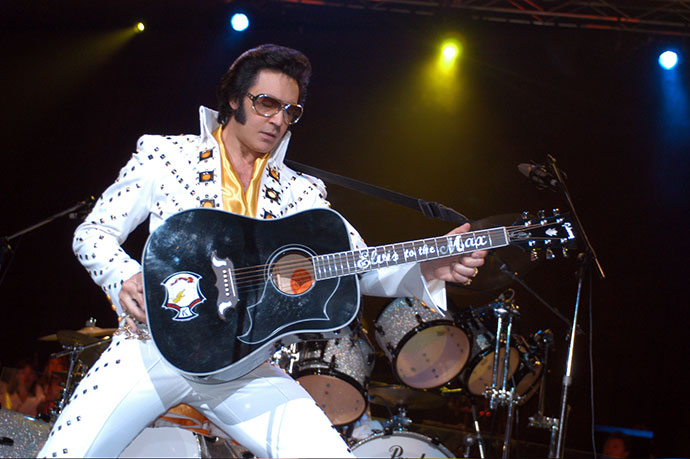 Elvis Presley may have left the building 36 years ago but his spirit lives on in the form of talented tribute artist Max Pellicano.

The Monte Carlo-born American has been wowing audiences with his spot on impressions of 'The King' for decades and has managed to stand out as the world's premier Elvis impersonator.
Despite the fact that he has built his whole career on imitating the style and sound of Elvis Presley, Pellicano admits that he was not always a huge fan of the superstar singer.
"I liked his music and stuff like that but my brother was more into Elvis than I was, he was a little older than me… I was more into The Beatles and Rolling Stones. I mean I was really young when Elvis came out, I was barely born, I was just a baby so I didn't really grow up with that music," Pellicano confessed.
Pellicano discovered his affinity for Presley during the 1970's while studying a dramatic arts degree at California State University.
"I was singing in nightclubs and stuff like that, I was working my way through college and I started doing a couple of Elvis songs in my set and people starting really turning onto it," he said.
After graduating, Pellicano signed up for a production of the musical 'Bye Bye Birdie', playing the lead role of Conrad Birdie who was directly inspired by Elvis Presley.
"A promoter saw me in that show and hired me to go to Hawaii to do an Elvis show, and I was going to stay there for about three weeks and ended up staying there for three years."
Now, three decades on, he has toured the world with his 'Elvis to the Max' show and is set to visit Australia to perform 'The Orchestral Sessions'.
The seasoned entertainer will be playing at Rooty Hill RSL on Saturday, September 7 and said that audiences are in for a thrilling night of authentic Elvis music.
"I'm going to be doing the '68 Comeback Special and the Aloha from Hawaii concert and we're going to have a string section, an orchestral section with us so the songs are going to be really big, it's going to be really cool," Pellicano said.
Max Pellicano will bring 'Elvis to the Max – The Orchestral Sessions' to Rooty Hill RSL on Saturday, September 7 at 8pm. Tickets are $50. For bookings or more information, visit www.rootyhillrsl.com.au.