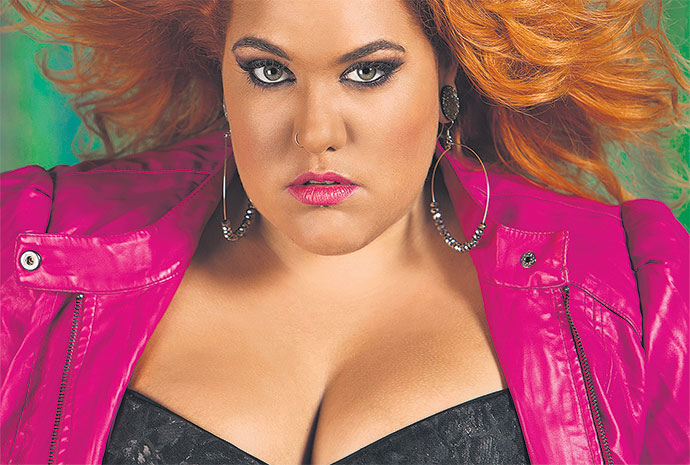 Reporter Shannon Cochrane caught up with Casey Donovan…

What can audiences expect from your upcoming Mama Cass tribute show?
They can expect a night of music and toe-tapping and singing along and entertainment.
What is it about Mama Cass that you admire so much?
I think while doing my own 'Big, Beautiful and Sexy' show and showcasing Mama Cass as one of the 'big, beautiful and sexy' artists and then also getting to play her down in Melbourne, I have learnt so much about this woman and little bit by little bit just learning and realising we have so many similarities in life. One of them is being a bigger girl, but also just living live to the fullest and wrapping yourself in music and just living as much as you can.
How difficult was it to portray the iconic figure of Mama Cass on stage?
It was a bit tricky for me because trying to put on Cass' shoes, they're quite big and there's a lot of pressure to kind of get out there and make her amazing and let her spirit live on through the little bit that I did, so there was a lot of pressure. I guess just getting in the headspace, Cass was such a bubbly person but she had a very well-hidden heartache so I could relate a lot to that. I've never had so much anxiety in my life as when i was doing that show, I was nervous all the time thinking 'oh my god, Casey don't stuff it up'.
While she was loved for her beautiful voice, Mama Cass was also well-known for being a bigger woman. What do you think about the way the media and public focuses on musicians' figures?
Everyone's judged for their weight, and whatever they do and however they look and god knows, social media these days has just kind of come along and whipped us all in the ass. But I'm out there and I promote a healthy living and yes I am a big beautiful and sexy woman but that doesn't stop me living my life and having fun. The one thing that I dislike is when people just categorise bigger people for just being lazy and eating a lot of shit, which is just not the case. It makes me angry that people still do that and we're moving in a world and there's other things to worry about.
What kind of feedback do you get on social media? Do you ever get negative messages or criticism?
I get slandered every day, I get bullied every day but the way I deal with it is I'll reply nicely back to them or I'll just leave it because sticks and stones may break my bones but words are never gonna hurt me…well they do, but I'm not going to let them.
You appeared on 'Australian Idol' when you were just 16. How did you cope with being in the spotlight at such a young age?
I think there's a lot of pressure for any 16-year-old going through high school and then being thrusted into the limelight..I've learnt some amazing lessons, it's still the big question, was i too young? It's been an amazing journey and being so young and doing the show like that has let me grow into a woman and reassess my life and my career, whereas if I was 30 and doing 'Australian Idol' then having to do what I'm doing now, I'd be 50 before anything would happen.
It's been almost ten years since you won 'Australian Idol'. How have you changed in that time?
I could actually sit there and talk to you on the phone rather than giving you one word answers, I've come into my self as a woman and I've learnt how to be confident. Musically I've grown; my range, my performances, being confident on stage and just owning it and being exactly who I am on and off stage.
How has your Indigenous background affected you, and do you think you are a role model for young Indigenous people?
I like to think that I can inspire all kids, no matter what background. I had to take that journey myself to understand fully about my Aboriginality… growing up in a broken home and always knowing I was Indigenous but never really understanding. Then after 'Idol', I went back to my dad's country and we've got a learning centre there and I learnt some language. I just felt really at home and I felt happy because I had done it for me, and I could understand… when I acknowledge country and I talk to to Indigenous kids or I do something in the Indigenous field, I understand. I know it sounds weird but I just had to do that and it's definitely changed my life. Community has held my career together in a funny way, I stopped doing music a couple of years after 'Idol', I didn't know what I wanted to do, I had to take a break out and I went and got a job and was working medical reception. Then the community wanted me back and wanted me to sing and mentor kids and I jumped at the opportunity. I take my hat off to everyone out there in the community just trucking on.
When can we expect to hear new music from you?
I've definitely been working away. I recorded some stuff earlier this year and we're just going through the mixing and mastering processes as we speak. Next year, ten years [since idol] it's going to be… wow, I'll be 26, I'm feeling old. There's so much happening in the next year, tours, music, something you can read….I've been a busy, busy bee.
Casey Donovan will be performing a tribute to Mama Cass at the Joan Sutherland Performing Arts Centre on Saturday, September 14 at 8pm. Tickets range from $29 to $39. For bookings or more information, call 4723 7600 or visit www.jspac.com.au.