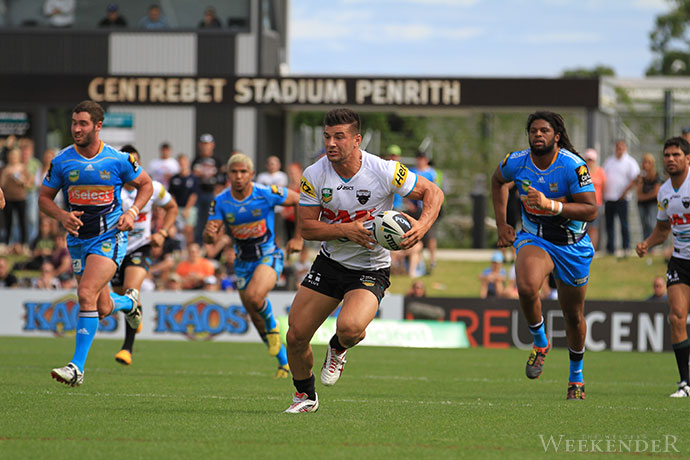 A deadly backline partnership is looming if Panthers stars Josh Mansour and James Roberts have their way.

The pair are two of Penrith's, and the NRL's, best attacking weapons but with both players making names for themselves in the same position (wing), how is it possible that they'll both be able to fit into the side each week?
"I was actually talking to James the other day about forming a partnership," Mansour told Extra Time.
"I'd play him in the centres and myself on the wing, I wouldn't mind that. But at the end of the day it's the coach's decision wherever he wants him or I to play. I'm sure he'll find a spot in the squad for both of us."
The reason this predicament hasn't popped up until now is because both players have had a terrible run of luck this season with injuries, which has forced the pair to miss 23 games between them this year.
Mansour returned to the Panthers line-up for the first time since June 16 during last week's big loss to the Sydney Roosters.
The 23-year-old was recovering from a severe eye socket injury, his second major stint on the sideline after injuring his ankle on April 13.
"The last few months have been like a roller coaster," Mansour said.
"It was a bit frustrating because I hadn't had any long-term injuries in my footy career, so I had to stay positive and optimistic whilst on that road to recovery. I just had to keep fit and get back into the team somehow."
The 2012 'Rookie of the Year' winner admitted there were times where he thought he may never play first grade again this year.
"There was some negative thoughts that crept it," Mansour said.
"I did a lot of rehab training. I didn't go out partying and tried to keep my mind off things."
Mansour said his goal is to finish the season on a high by doing his best to help guide the Panthers to a seemingly unlikely finals appearance.