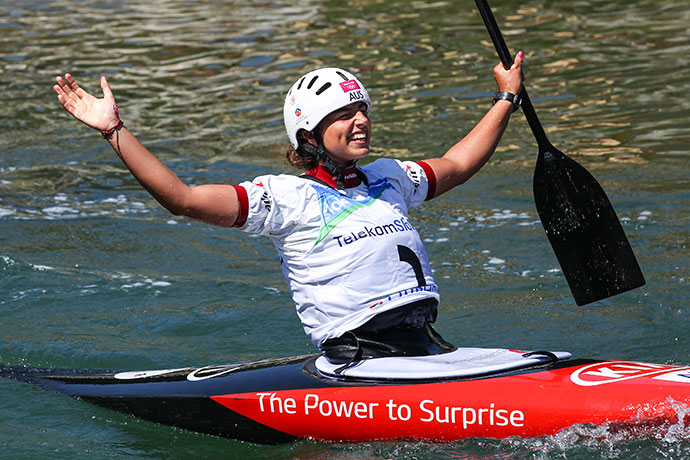 Jessica Fox has won K1 gold on the final day of the ICF Slalom World Cup in Tacen, Slovenia.

Fox has become the first female athlete to win both the women's C1 and K1 events at the same World Cup.
But the 19-year-old's victory didn't come without controversy.
24-year-old NSWIS kayaker Rosalyn Lawrence appeared to have won her first ICF K1 World Cup medal finishing second in the K1 final.
However, the International Canoe Federation (ICF) decided to re-run the final due to low-water levels and Fox pounced.
It was a historic moment for the young Australian who held her nerves to execute a clean run under enormous mental pressure to secure her maiden K1 World Cup triumph.
In a world first, it was the first time a female athlete has completed the double winning gold in the both women's disciplines C1 and K1 at the one World Cup.
In the same event she won silver in at last year's London Olympics, Fox improved on her semifinal time to win in 117.60, 0.34 seconds ahead of Austrian star Corinna Kuhnle. Local favourite Eva Tercelj stole the bronze 1.77 seconds behind Fox.
"I am very happy to win my first World Cup medal in K1 and to do the double on Tacen is really special," said Fox
"In my final run I got pushed around at gate one and had to change my plan and recover quickly. Then the rest of the run came together and was pretty controlled. I was really happy that I was able to stay clean and on line and improve a little on my semi-final."
Lawrence eventually finished ninth in the official final, 10.29 seconds behind Fox. It was a heartbreaking result for the Big River Canoe Club paddler despite achieving her first top ten K1 finish for the year.
"I had no idea what was going on except my first attempt at the final was shocking and I really struggled with the first few gates. I guess it was out of our hands what happened next and I was then given a second chance and decided to make the most of it as I had nothing to lose," said Fox.
"Obviously it was very tough on those who had delivered the goods first time around and I certainly feel for Violetta (Oblinger-Peters), Ros (Lawrence) and Vicki (Wolffhardt) because they had put down really good runs and I know how I would be in that situation."
The victory for Fox completes a perfect weekend taking her World Cup medal tally to five (four gold and one silver).
"It has been a busy three days so I am looking forward to a little rest tomorrow before racing in Bratislava again on Friday," she said.
The fifth and final World Cup will be held in Bratislava, Slovakia from August 23-25.