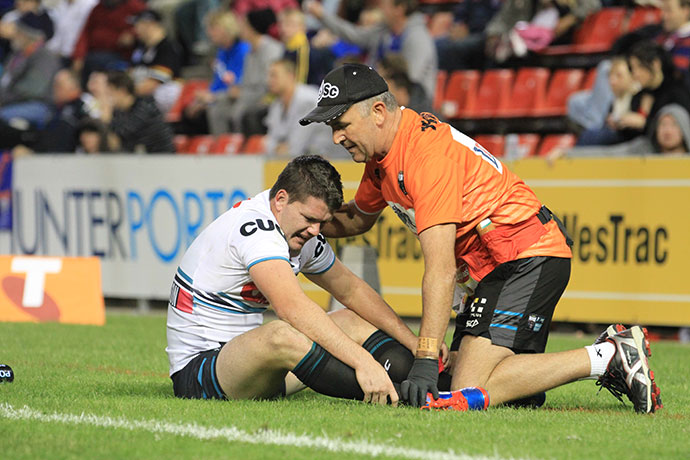 When Lachlan Coote ran out onto the Penrith Stadium turf for the first time since round one last Sunday night, the small but vocal crowd roared in appreciation for two reasons: for breathing life into a decimated Panthers line-up and also for overcoming the worst injury of his career.

"You sort of get forgotten about when you've been out for that long, you forget what that feeling is like after months training by yourself, so it was great when I ran out onto the field that I could hear the crowd cheer," Coote told Extra Time.
The 23-year-old fullback turned five-eighth made his long-awaited NRL comeback in Penrith's loss to the Cowboys, five months after tearing his pectoral muscle in round two against the Wests Tigers.
Coming off the bench late in the first half, Coote admitted he was feeling surprisingly calm sitting on the sidelines waiting for his opportunity.
"I thought I would've been a lot more nervous but I wasn't too bad," he said.
"It was a bit of a different feeling coming off the bench because you get to hear what the crowd says to the touchie and refs. I've never been a part of that before."
When Coote suffered the injury back at Campbelltown Stadium on March 17, many thought he would be out for the season due to the nature of the injury. However Coote, thanks to the help of doctors and modern medicine, defied the odds to allow him to see out the season in the right fashion.
"Back in the old days it would've been a season-ending injury," he said.
"But with all the new physios and technology these days that wasn't the case. My physio said we'll aim for round 20 and I ended up coming back in round 21, so it wasn't too bad.
"I'm glad I get to play a few more games before the season is up because it was frustrating knowing I was out in round two and it was a season-ending injury."
During his time out of the game Coote said he had plenty of support from his teammates as well as coaching staff, who were always making him feel part of the team and always in the loop.
"The boys have been great, I was in every day they were in but I wasn't doing the same sort of training they were doing, I was off doing my own thing," he said.
READ MORE ABOUT COOTE'S COMEBACK IN FRIDAY'S EDITION OF EXTRA TIME