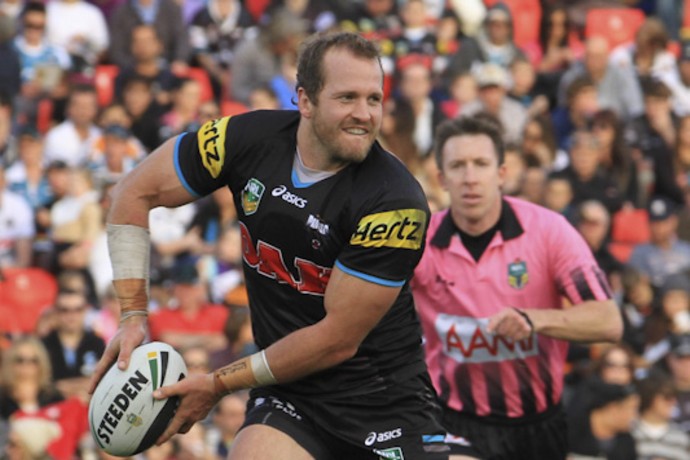 Barely 10 minutes had been played against the Warriors last weekend when it looked like Penrith's season was dead and buried.

Thomas Leuluai and Panthers-bound Elijah Taylor had scored the first two tries, giving the Warriors a 12-0 lead and leaving Penrith huddled behind the goal posts facing a conundrum.
Do they give up now, and face 70 minutes of embarrassment?
Or do they do exemplify what I mentioned last week – that real champions fight the pain and rise above adversity?
We know what happened next – the Panthers produced perhaps their most inspirational win of the season, beating the Warriors 28-24. It was a high quality game of football and one that tested Penrith's resolve until the very last minute of play.
It was awe-inspiring stuff, and with heavily discounted tickets on offer for tonight's clash with Brisbane (and no live TV coverage), Penrith fans have no excuse – they must get out to Penrith Stadium and help keep the season alive for the boys.
The equation from here is pretty simple – the Panthers need to win every single one of their matches to make the finals. It's no easy task as the Broncos will be tough competition and the season ends with away trips against Canterbury and Manly.
But Penrith has shown on many occasions this year that in the right frame of mind, they can beat anyone on their day.
One of the real tasks for coach Ivan Cleary this week will be ensuring his side has its head right for tonight's game. He's had a disrupted, limited preparation given the side played in New Zealand on Sunday, travelled back to Sydney on Monday and now play on Friday night (another quirk of the NRL's embattled scheduling system).
Cleary must also ensure his side stays focused on the task at hand and doesn't look too far ahead to the games against the higher placed Bulldogs and Sea Eagles.
Brisbane are no easybeats and could well be the dark horse of the finals race – their season is on the line against Penrith, and they sit in 10th spot, one point clear of the Panthers. Victory would put them three points clear, give them a chance of being in the eight at the end of the weekend, and almost certainly end the hopes of the Panthers.
Brisbane were far from impressive against Parramatta last weekend, and prior to that beat the Dragons by just two points and drew with Newcastle. They have been far from dominant and the Panthers have every chance to kill them off tonight.
Isaac John was back to his best last weekend, and must prove that he has the ability to be consistent by backing it up tonight. His partner in crime, Luke Walsh, was also good last weekend – he got his kicking game right in most cases and we need to see more of it tonight.
But where Penrith might win this game against Brisbane is out wide – on both sides of the park.
Josh Mansour and David Simmons were simply brilliant last weekend – particularly Mansour who after a season dogged by injury, has returned to the kind of form that made us all stand up and take notice last year.
Simmons is one of the really good stories out of the Penrith camp this year. Offered a deal in England to finish his career, Simmons stuck solid with Penrith and signed a new two-year deal despite there being no guarantees about his place in the first grade side. Since then, he has only got better and now leads the NRL's try scoring ranks.
Tonight's game has the makings of a beauty – two desperate teams, very much fighting under the "do or die" banner.
My fearless prediction? Golden point could be in the offing. There's way too much at stake for this to be a blowout.