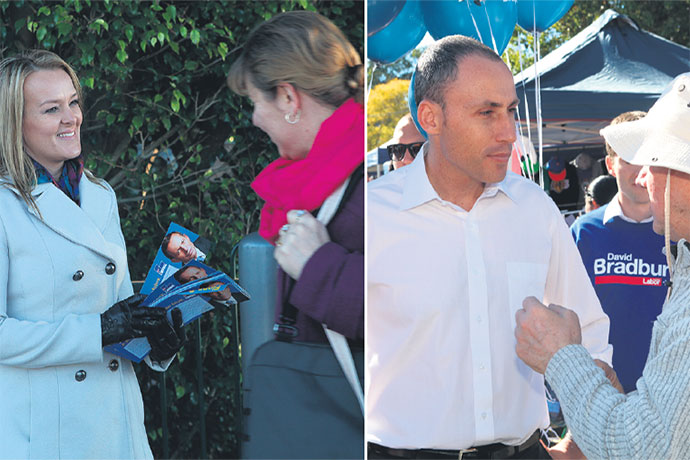 Lindsay voters will have a chance to see the battle between Labor's David Bradbury and the Coalition's Fiona Scott get very serious when the two face off in a debate at the Penrith RSL Club on Tuesday, August 20.
Presented by The Western Weekender newspaper, the debate will see one of the most marginal seats in the country go on the line as Mr Bradbury and Ms Scott outline their plans and policies for the local region and beyond.
The 90 minute debate will feature questions from representatives of selected industries such as education, business, disability care and more – plus questions from the general public as well as opening and closing statements from both candidates.
The debate will be moderated by Sky News political reporter Laura Jayes.
"This will provide local residents with the opportunity to make an informed decision about which candidate is best qualified to deliver for our community when they go to the ballot box," said Labor's David Bradbury.
The Coalition's Fiona Scott said: "I congratulate The Western Weekender on this initiative and look forward to engaging with Mr Bradbury and Lindsay residents on the night."
"I look forward to participating in this debate with Mr Bradbury and outlining the Coalition's positive agenda for the electorate of Lindsay and Australia as a whole," Ms Scott said.
"The Coalition has a positive plan to repeal the carbon tax, ease the cost of living pressure on Lindsay residents, pay down government debt and secure Australia's borders."
Mr Bradbury said he was looking forward to go going head to head with his rival.
"For the past 18 months, Miss Scott has hidden behind template press releases issued straight out of Liberal Party head office and we are yet to hear her speak publicly on any area of policy or her plans for the area," he said.
"I welcome the opportunity to finally go head to head with Miss Scott."
Western Weekender Editor, Troy Dodds, said it would be an excellent opportunity for local residents to hear from both candidates.
"Lindsay is held by the slimmest of margins and is a vital seat at this election – I thank the candidates for their acceptance of our invitation and look forward to hearing what they have to say at the debate," he said.
The Candidates Debate will take place on Tuesday, August 20 at Penrith RSL from 6.30pm – proudly presented by The Western Weekender newspaper (a 2013 PANPA Newspaper of the Year awards finalist). It is anticipated that Sky News will broadcast the event.
The general public can register for their free tickets by sending an email to [email protected] Please include how many tickets you require, the names of those attending and your phone number. A confirmation email will be sent if you have been successful in gaining tickets.