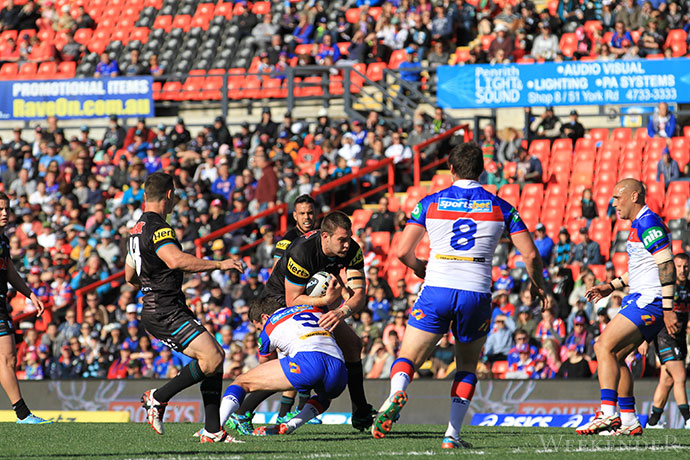 To put it in the simplest way possible, the Panthers have run out of puff in season 2013.

An ongoing injury crisis has finally caught up with the side and it would appear that playing finals football can now be ruled out.
Unless, of course, Penrith can somehow spring an almighty upset and beat the highly favoured Sydney Roosters at Penrith Stadium on Friday night.
If they were to do that, then all of a sudden, their season has new life – and it wouldn't be the first time that such new life has been breathed into their 2013 campaign.
On paper though it is one of Penrith's toughest tasks of the season.
The Roosters are sitting in second position on the ladder, coming off tremendous wins over Cronulla and the Knights and are still a realistic shot at the minor premiership.
They bought perfectly this season, strengthening every single position they had a problem with in recent years, an alternate plan to that of Penrith's which is to build long-term success. It will most likely bring a premiership trophy or at least a grand final appearance to Bondi much quicker than Penrith, but that doesn't mean it's the right way to do things.
On Friday the Roosters will be without rampaging second-rower Sonny Bill Williams (suspension), but when you look through the rest of the Roosters' line-up, it's hard to say they'll miss him all that much.
The Roosters side spells class with a capital C and we should not hide away from that fact.
But if rugby league was played on paper, games would turn out very differently every weekend.
The Panthers must go back to a Sunday night back in May, when they produced one of the upsets of the season to beat Melbourne, if they are to find a similar contest in which they had their backs against the wall, and were rated no hope of winning.
A full-strength Melbourne simply didn't know what had hit them when Penrith came out with an incredible defensive display; one that would lay the foundation for a run of three straight wins.
During that period, Penrith were exceptionally physical and they must have that attitude again to be any chance against the Roosters.
"It will be a very dominant, physical game and we've just got to be switched on, ready to play," said hard-hitting lock Adam Docker.
"We were nowhere near as dominant on the weekend as we had been the last three or four games and that's what really kills us."
Docker agrees that Penrith's injury crisis has finally caught up with them and is causing grief at the wrong end of the season.
"We've had that many injured players it just plays with your head," he said.
"You've got new people coming in, it changes up the whole technique about how you play the game."
If Penrith make the finals from where they currently sit, they will certainly deserve it as it will most likely mean they've beaten the Roosters, Canterbury and Manly in the run home – there could be no tougher assignment.
Mose Masoe returns to the Penrith side this weekend following his one-week suspension, adding some grunt to the forwards.
At this time of the year, with so much on the line, one wants to remain confident and upbeat, but it's hard to see the Roosters getting beaten on Friday night.
That said, if Penrith plays with heart and commitment, and gets a little bit of luck (something they've had none of in their past two games) then the impossible could very quickly turn into the possible.
A good start, as always, is needed, but more importantly, surviving the 10 minutes before and after half time could prove absolutely crucial.