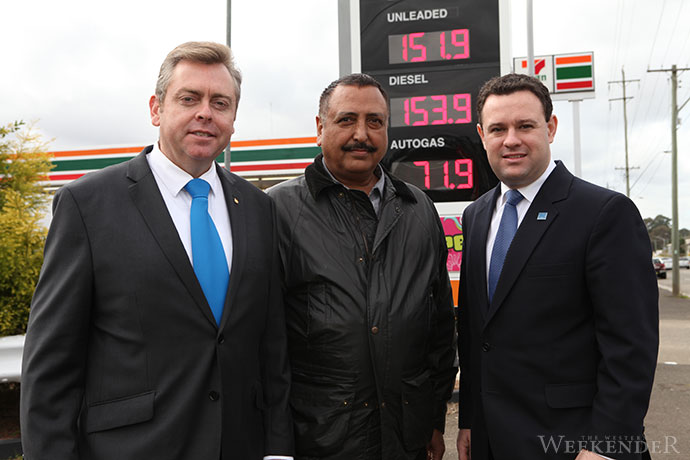 Upcoming changes to petrol price signage are set to increase competition between retailers and hopefully lead to downward pressure on petrol prices.

From September 1 this year, NSW petrol station operators will be required to clearly display the prices of the two top selling fuels for the service station, as well as the price for diesel and LPG.
These changes are minor, but the new restrictions will reduce public misinformation that commonly occurs when the price of petrol is advertised with discounts and special offers included in that price.
"We did an extensive survey of consumers and found that 90 per cent of consumers effectively wanted the price that was available to everyone to be on the board. They felt that they were misled with discounts," said Minister for Fair Trading, Anthony Roberts.
"No-one knew what they were paying until of course, they drove in, got out of their car and looked at the bowser. By then, they are committed."
On Wednesday, Mr Roberts visited Kingswood 7/11 to inspect the petrol price board, which meets the new standards.
The change is set to give local motorists an opportunity to compare prices for themselves.
"It's about giving consumers as much information as possible when they are making a choice of what sort of fuel they are going to purchase," Mr Roberts said.
Mr Roberts said that the changes may result in a drop in petrol prices.
"It will, we hope, drive the price of petrol down because there will be competition, real competition in the marketplace," he said.
The crackdown on advertised prices comes as more scrutiny is placed on supermarket giants Coles and Woolworths over petrol discounts provided to shoppers.
Australian Competition and Consumer Commission (ACCC) Chairman Rod Sims has expressed significant and further concern about the escalating "shopper docket" petrol discounts, now reaching up to 45 cents per litre in some cases.
"If Coles and Woolworths wish to offer their customers a discount, it should be off supermarket products, not petrol," Mr Sims said.