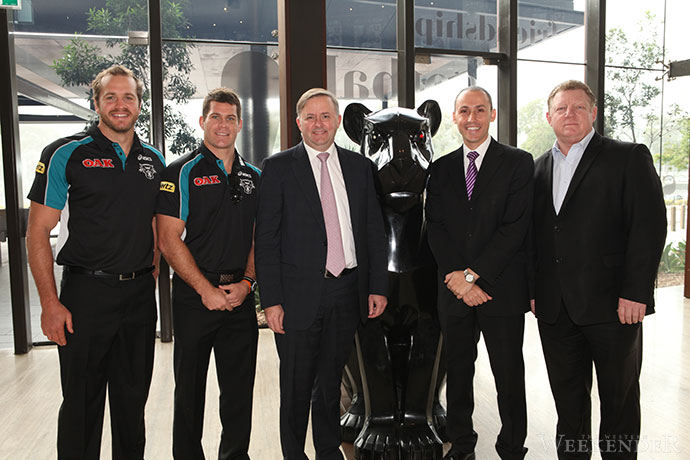 Penrith is one step closer to being the home of a $53 million sporting and community centre that will change the sporting landscape in western Sydney forever.

On Tuesday, the Federal Government announced it was injecting $12 million into the development of the Western Sydney Community and Sports Centre to be situated on the grounds of Penrith Panthers Leagues Club.
When completed in 2016, the Western Sydney Community and Sports Centre will deliver a state-of-the-art community hub that will bring enhanced social and sporting opportunities to the people of western Sydney.
Minister for Regional Development and Local Government, Anthony Albanese, said the community and sport centre will link to the existing Panthers club facilities and deliver a massive boost to all sports in the region.
"The project includes the construction of an elite sports centre with a gym, a facility for sports science and medicine study and a sports hall for indoor sports, school sports and other events," he said.
Mr Albanese believed that the centre will help foster the next generation of western Sydney sporting stars as well as support the existing elite sport community.
"Good quality sports infrastructure strengthens communities and this centre will bring together a range of sporting and community groups and allow them to better respond to the needs of the surrounding community," he said.
The new multi-purpose centre will create 595 local jobs during the construction phase and, once operational, will generate another 210 employment opportunities.
"Not only is this proposal investing in our elite athletes but it's also an investment in the future," Federal Member for Lindsay, David Bradbury said.
"This facility will service the full continuum from those that are beginning right through to our elite athletes. It will ensure Penrith, who has always been a great nursery for great athletes, will continue to perform that role."
Some of the beneficiaries of the new centre will include: Scouts, PCYC, various sporting groups including netball as well as the University of Western Sydney, local schools and community groups.
Panthers Group CEO, Warren Wilson, said the proposed facility will be the centerpiece of Panthers' western Sydney community precinct.
"The broader precinct will also include the Panthers NRL Academy plus five sporting fields, the Crown Casino Training Academy and hopefully a tennis precinct including up to eight clay courts," he said.
In total the new Western Sydney Community and Sports centre will cost $53 million. Along with the $12 million announced from the Federal Government, Panthers Board of Directors have also contributed $29 million to the project.
Serious discussions are soon to commence with the NSW State Government for the remaining $12 million for the project.