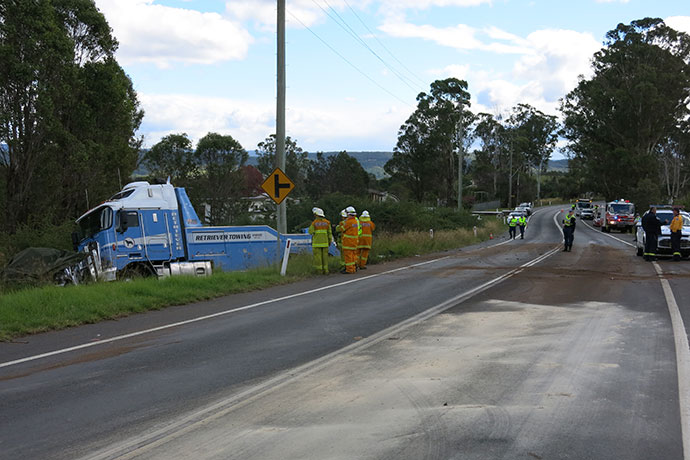 A woman has died after her car collided with a large tow truck at Luddenham this morning.

At about 10am a woman was driving a small sedan in a northerly direction along the Northern Road, near Littlefields Road, when her car collided with a tow truck that was travelling in the opposite direction.
The vehicles left the road after the initial impact and travelled down a short slope beside the roadway.
Emergency services attended the scene where the woman was pronounced deceased.
"The cause of the accident is still under investigation," said Inspector Gary Sims from Penrith Police.
"There is an amount of physical evidence but we have to wait until that gets analysed before we can rule in or rule out any hypothesis on the cause of the accident," he added.
Police say that the driver of the tow truck was taken to Liverpool hospital in a satisfactory condition.
Gavin Martin from Retriever Towing, the company to which the truck belongs to, spoke to the 26-year-old driver of the truck this morning and told the Weekender that although his physical condition is okay, his is still very emotional.
"I am mainly worried about him, that's all. He was upset but I have spoken to him since and he is a lot calmer now but it'll hit him later," Mr Martin said.
It is understood that the driver of the vehicle told his employer that he was not at fault.
"He was heading towards Narellan, she was heading in the opposite direction and she came across on his side of the road. After the impact he has just gone down [beside the road] because you can see it has hit his steering; it became jammed," Mr Martin said.
"He tried to get out of the way but she just kept coming for him, that's what he said on the phone to me. He just couldn't get away."
Crash investigators and forensic officers as well as Fire and Rescue are attending the scene.
It is expected that the road will be closed until late this afternoon.
There are a number of witnesses who have spoken with police however police are looking for anyone else who witnessed the accident this morning to contact Crime Stoppers on 1800 333 000.