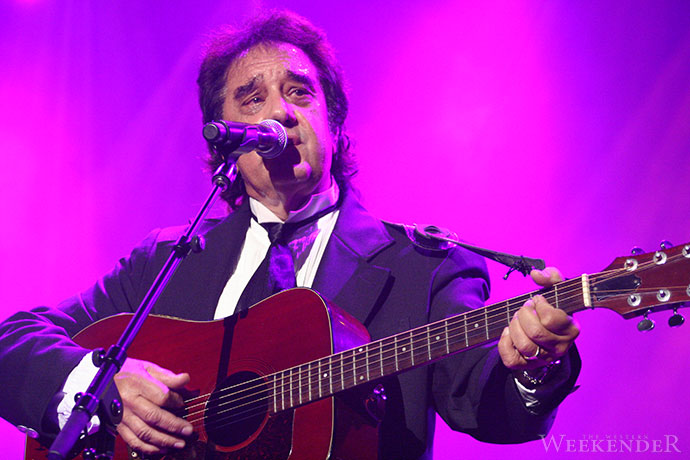 With their iconic looks and beloved songs, Johnny Cash and Roy Orbison are remembered as two of the world's greatest musicians.

Now, the timeless tunes of Cash and Orbison will be taken on in 'The Men in Black Tour', which will come to the Evan Theatre in Penrith on Saturday, June 15.
Talented performer Dean Bourne, who is well-known for his spot-on tribute shows, will step into the shoes of Roy Orbison.
In his tribute, he will perform all the catchy hits that catapulted Orbison into the spotlight including 'Pretty Woman', 'Crying', 'Dream Baby', 'Leah', 'Blue Bayou', 'Penny Arcade', 'Danny Boy', 'Only The Lonely', 'In Dreams', 'Candy Man', 'You Got It', 'Workin' For The Man', 'Running Scared' and more.
Bourne began performing at the age of 10 and was playing in pubs and clubs while he was still a teenager before creating his own tribute show to Roy Orbison.
Gracing the stage alongside Bourne is Bosco Bosanac, whose rugged looks and gravel voice make him the perfect man to perform the country rock hits of Johnny Cash.
Bosanac has enjoyed a successful career that goes back to the 60's and 70's when he was a founding member of Aussie surf rock instrumental band The Atlantics.
After Cash's death in 2003, loyal fan Bosanac was saddened yet inspired to keep the country legend's music alive and began performing his songs at private functions before creating 'The Johnny Cash Tribute Show'.
In his performance, Bosanac takes the audience back in time to a golden age of country rock when he sings hits such as 'Ring of Fire', 'Folsom Prison Blues', 'Walk The Line', 'Big River', 'Ghost Riders in the Sky', 'Orange Blossom Special', 'Get Rhythm', 'A Boy Named Sue' and 'Man In Black'.
These two performers will leave fans in awe as they take on Johnny Cash and Roy Orbison on stage, creating a nostalgic night of rock and roll.
'The Men In Black Tour' will show at the Evan Theatre, Penrith Panthers on Saturday, June 15 at 8pm. Tickets are $36.50. For bookings or more information, call 4720 5555 or visit www.penrith.panthers.com.au.
FYI has two double passes to 'The Men In Black' show at Penrith Panthers. For your chance to win, email [email protected] with the code word 'BLACK' and your name and phone number. Entries close Wednesday, May 29. Authorised under NSW Permit Number LTPM/12/01138. Terms and conditions at www.westernweekender.com.au.