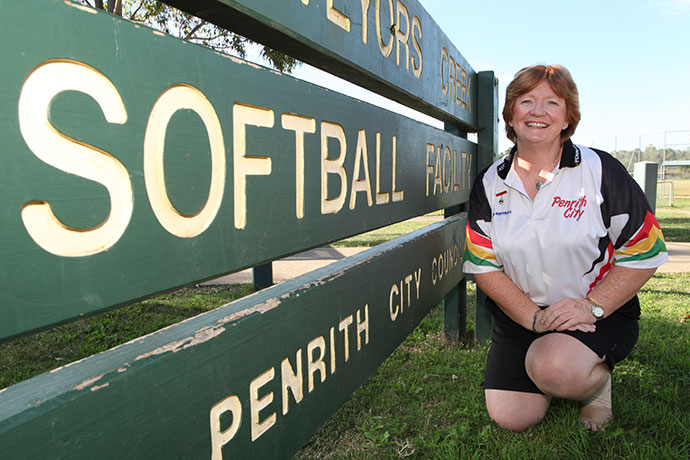 Long-time Penrith City Softball Association (PCSA) player and staffer, Jo Buchanan, was "blown away" and "completely shocked" when she found out she had been awarded a life membership for more than thee decades of dedicated service to the sport.

The humble Penrith resident and strong ambassador for softball in the local area said being awarded the life membership was her "proudest moment in softball".
"I feel a little unworthy actually… I just do what I do because I love softball in Penrith," Ms Buchanan said.
"I do it for the families who come back every year to the best family sport in the world. Where else can all age groups of kids and their parents play in either social or competitive competitions all at the same ground on the same day of the week?"
Ms Buchanan has been playing softball since 1978 and is currently serving as an 'honourary' secretary with the PCSA.
She said she loves getting to the softball fields early on game day and staying right to the end to watch all the action unfold on field.
"I love being at softball at 7.30am to help set up, do my executive duties during the day, play my game, coach, pack up at the end of the day, then enjoy a drink and unwind with the many people who stay behind," she said.
"I'm so pleased that my two sons play each week as well because it's something we do as a family."
Loretta Watts, President of the PCSA and a fellow life member, has known Ms Buchanan for more than 30 years and said no-one has been more deserving for the award.
"What Jo puts back into the sport by playing reps, coaching and just being down on the ground giving back to our sport is incredible," she said.
"When she found out she won the award she was lost for words and in
tears."
Ms Watts said her long-time friend and colleague is well-respected by not only the local softball members but people across the state too.
"To receive a life membership the clubs and the delegates of those clubs have to vote as well as the executives of PCSA, without the club's support a life membership isn't possible," she said.
"To actually receive a life membership within our Association comes down to being well-respected and well-liked by most people."